Galaxy Tab A 10.1 Keeps Note Alive With S Pen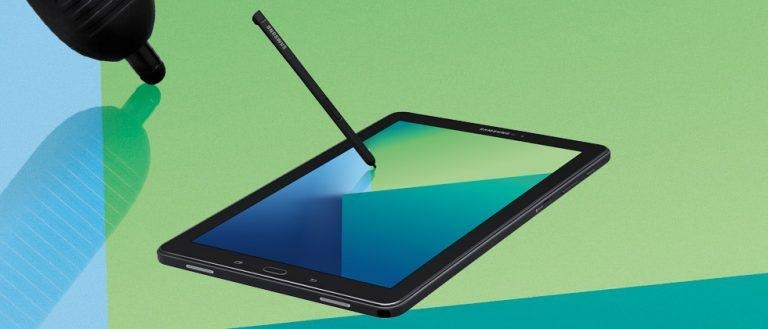 Samsung has revealed the Samsung Galaxy Tab A 10.1 with an S Pen aboard, chopping down rumors that the Note 7 killed the stylus. That would be completely absurd, of course, as Samsung has also been rumored to release a Note 8 next year. One recall wont kill the beast, of that you can be certain. The Samsung Galaxy Tab A 10.1 will feature a 10.1-inch TFT LCD with 1920 x 1200 pixel resolution and an Exynos 7870 processor inside.
This tablet will feature a 2-megapixel camera up front and an 8-megapixel camera around the back as well as Android 6.0 Marshmallow inside. There'll be one version of this device (at least at first) with 16GB of internal storage. This tablet also has a microSD card slot for a potential addition of 256GB of storage space.
Alongside the Eynos 7870 processor is 3GB of RAM, more than enough to handle the company's variety of S Pen-friendly apps. The newest of these apps is "Samsung Notes", an app which smashes Action Memo, Scrapbook, and S Note into one single place. It's very likely we'll see this app appearing in future Note devices as well.
This tablet is 10 x 6.46 x 0.32-inches in size and weighs in at a mere 1.22-pounds. With a 7,300mAh battery inside, Samsung suggests that this tablet is able to work with "14 hours of internet time." Samsung says that this device has an anti-glare feature and a blue light filter made to reduce eye strain.
The Samsung Galaxy Tab A 10.1 will be available in black and in white, Wi-Fi only, for a cool $349.99 USD. This tablet will be made available in the United States starting on the 28th of October, 2016. It's likely this tablet will be available through Samsung online first, then at retailers nationwide not long after.
Now we'll hold out hope (again) for a large-screen Samsung Galaxy Note Pro tablet, not unlike the Galaxy Note Pro 12.2 of the past. The newest S Pen software features and hardware technology mustn't be lost to a generation of recall misery. Bring on the large-screened tablets, bring them on immediately!