Galaxy Tab 10.1 Giveaway "Unboxing War" Winner Announced! Thanks For Playing!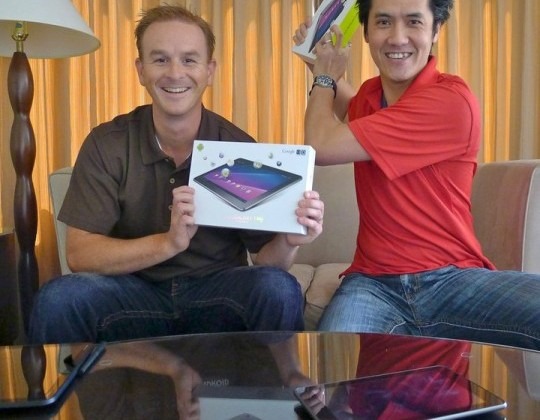 Winner Winner Chicken Dinner! Tomorrow is the full launch of the Samsung Galaxy Tab 10.1 Wi-Fi Edition. We mentioned that we would be announcing a winner for our Unboxing War Number One contest as soon as the Galaxy Tab was up for sale. The time has come and we have selected a winner, read on past the break to find out if your Android prayers have been rewarded with this rounds giveaway.
First off we would like to thank every single one of our readers that voted on either our SlashGear Facebook Page or the Android Community Page. Between both sites we had tons and tons of entries and it was an extremely hard choice to single it down to one lucky reader but enough of that, its time to announce the winner... (Drum-roll please)...
The entries have been counted and it looks like Ben for AndroidCommunity was the winning vote for the Unboxing War Number One. That makes Android Community (1) and SlashGear (0) but don't worry we plan to have more unboxing wars and giveaways coming soon so stay tuned right here at your favorite gadget and tech site — SlashGear!
Even though it looks a little different on the back it is the same amazing hardware so don't forget to check out our Galaxy Tab 10.1 Google I/O Limited Edition Review, or feel free to also read the review from our sister site Android Community, after all they're who won this round anyways.
Oh and just for fun here are a few of our runner up entries that didn't win but were worth mentioning.
Freddy Secreast

Vince won. It was close, but I think Vince's hair helped him pull out the tough victory.
Dion Dennis

Ben Bajarin is the clear winner. Calm and collected, through in the explanation on the TAB 10.1. Vincent Nguyen review was based on speed, warp speed!! Rock on guys!!
Once again we'd like to say Thank You to everyone that entered this contest, we hope you all have better luck next time because we have more surprises coming soon. Thanks Guys!