Galaxy S6 might not be waterproof, but Galaxy S6 Active will be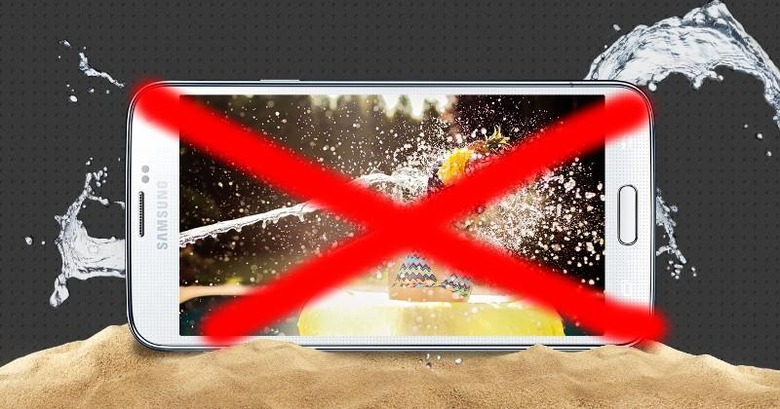 Rumors about the upcoming Samsung Galaxy S6 continue to pile up, but the latest ones seem to be sending mixed messages to both fans and onlookers. The latest word on the rumor mill is that the next Samsung flagship won't be flaunting a high waterproof rating, unlike the Galaxy S5 before it. Instead, that feature will be bequeathed on what would be the Galaxy S6 Active, which will be seeing a return to the lineup this year and adding to the number of rumored Galaxy S6 variants.
Truth be told, it was the Galaxy S5 that was actually the odd duck. It brought along with it its own high waterproofing instead of having that feature found elsewhere in a variant. To some extent, it makes sense. Why not put the best of the best in your top contender, like what Sony does year after year for its Xperia Z flagships. More often than not, the "Active" variants of Samsung's flagships only share in the name, trading rugged features for lower hardware.
But apparently, either the market or production costs, or both, seem to be telling a different story. For whatever reason, Samsung is now rumored to be yanking out that feature from its next flagship. It will put those high waterproof and shockproof features on a separate Galaxy S6 Active instead. But it won't be for naught, however. The removal of these features could potentially allow Samsung to make the device even slimmer and lighter, which could match Apple's iPhone 6 as well.
The Galaxy S6 is definitely shaping up to be one curious device. There's the rumor yesterday that Samsung might be ditching the Snapdragon 810 because of overheating issues. There are also rumors of either a Galaxy S6 with two curved edges ala the Galaxy Note Edge, or a separate Galaxy S6 Edge variant. And now, we have a third variant, a waterproof Galaxy S6 Active if the manufacturer does decide to make the main flagship less hydrophobic.
Of course, these are all still unverified rumors, so we'll really have to wait when Samsung finally makes them official. We won't have to wait too long, though, unless you consider a month as too long. Samsung is expected to announce the Galaxy S6 at MWC 2015 in March, just as it had done in the years past. Interestingly, rival LG won't be competing for attention in Barcelona, as it has no plans to announce an LG G4 there.
VIA: Webtrek.it, The Chosunilbo