Galaxy S5 processor detailed: Qualcomm Snapdragon 801 worldwide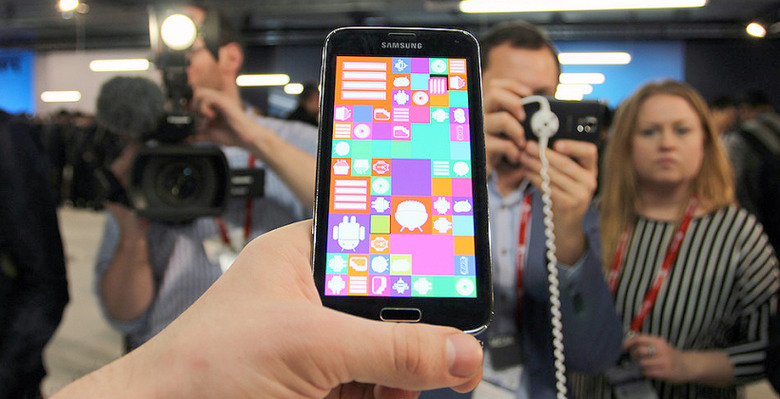 Today Qualcomm has stepped forward to reveal the fact that they will be powering the insides of the Samsung Galaxy S5 with their Qualcomm Snapdragon 801 mobile SoC. While we're not certain that this chipset will be powering the Samsung Galaxy S5 in all regions for all releases of this handset, it's certainly a big win for the processor maker as this handset will be released on a global scale this upcoming season. Based on what we've seen in early (pre-final software, mind you) benchmarks, Qualcomm's processor power is the one to beat here on the Galaxy S5.
With the Samsung Galaxy S5, Qualcomm suggests that they're bringing on three key sets of features. This includes "Superior mobile graphics and multimedia," "Fast and seamless connectivity virtually anytime, anywhere," and "Leading overall system performance and power efficiency." With the Samsung Galaxy S5, Qualcomm has embedded itself as a Samsung must-have with leading smartphones – they also rolled with a Qualcomm SoC in the Galaxy S 4 and the Galaxy S III (throughout the USA, at least).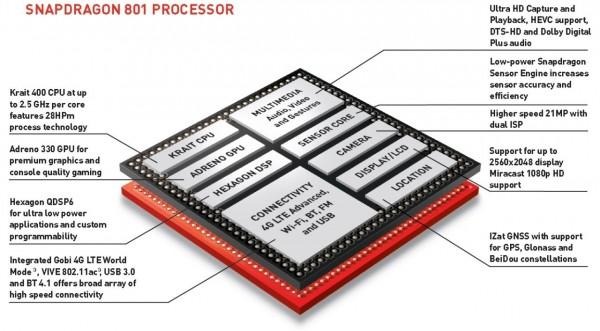 The Qualcomm Snapdragon 801 assists with the Samsung Galaxy S5's image processing. This processor also commands the mobile graphics on the Galaxy S5, of course, for video, still images, and gaming – this bit owing largely to the embedded Adreno 330 GPU.
The Qualcomm Snapdragon 801 works with fully integrated 4G LTE Advanced connectivity. This means that – where available – networks will be able to deliver speeds of up to 150Mbps, while the chipset also offers the possibility of dual-SIM connectivity. One Samsung Galaxy S5 model thus far – in China – will be bringing dual-SIM/dual active (DSDA) capabilities.
For power efficiency, the Qualcomm Snapdragon 801 brings on the Hexagon QDSP6 for "ultra-low power applications." This means that if you don't need high-powered tasks to be running, you won't be draining your battery.
The Qualcomm Snapdragon 801 works with quad-core Krait 400 CPU as well, clocked in at 2.5GHz per core for more processing power than you'll ever need on a smartphone. Below you'll see a few examples of EARLY benchmarks from the system.
Of IMPORTANT NOTE is the fact that the Samsung Galaxy S5 we've tested here suggests that these EARLY TEST MODELS with NON-FINAL SOFTWARE BUILDS are using the Qualcomm Snapdragon 800. This means that the final build will quite likely be much MORE powerful by the time the device launches.
Have a peek at our full Samsung Galaxy S5 hands-on from launch and stay tuned for more coverage as we continue to cover Mobile World Congress 2014 all week. Then stick around for our full review of the Galaxy S5 coming on sooner than later!