Galaxy S11 leak shows speed ramp-up x2: 5G and battery charging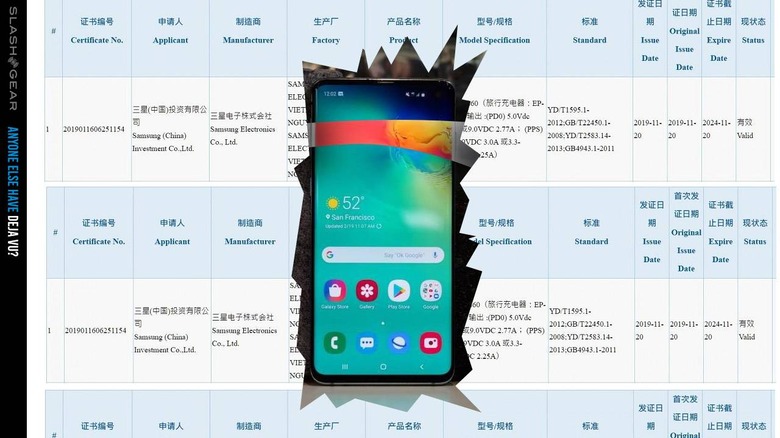 This morning a leak of regulatory info from China showed how Samsung was about to change the way they delivered the Galaxy S series in the near future. The Samsung Galaxy S11 will quite likely be the first smartphone to benefit from the next-generation charging speeds listed with China regulatory group CCC. This latest leak suggests that the Samsung Galaxy S11 – with codename SM-G9860 – will roll with 25-watt fast charging.
This is not the first Samsung Galaxy S smartphone to have this speedy sort of charging. None of the Samsung Galaxy S10 non-5G versions of the phone had this charging speed. They needed to settle for a piddly-by-comparison 15-watt "fast charging" speed. The Samsung Galaxy S10 5G, on the other hand, already had 25-watt fast charging earlier this year – inside 2019!
The same regulatory listings as showed the new 25-watt charging for the next major Samsung smartphone release also showed the future-telling abilities of the most expensive version of the Galaxy S10. That most expensive model was, again, the Samsung Galaxy S10 5G, and the future's in the name: This new Galaxy S11 was also shown to have 5G capabilities in this latest regulatory listing.
So while the next-generation Samsung Galaxy S11 might be paving new pathways to speed for battery charging and data delivery for some, owners of the Galaxy S10 5G already have the future in their hand right this minute. It remains to be seen whether the Galaxy S11's display will roll with 120Hz refresh rate – but if it does, we're SO IN.
Have a peek at the timeline below to see a collection of recent leaks on the Samsung Galaxy S11 and find out what'll suit you best. Do you want a device that's massive, and has a high refresh rate? Or do you want a device that's extra-tiny, but works pretty much just as well as the bigger version? And what super fancy color casing are you all about?