Galaxy S10's secret weapon just leaked: Life Pattern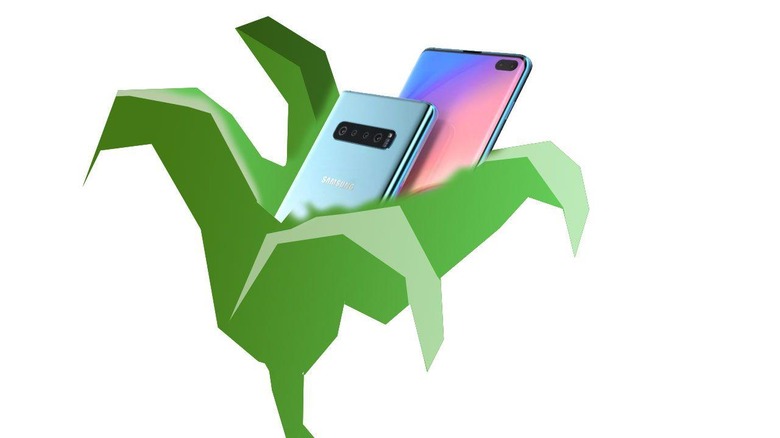 Tipped this morning in a report from South Korea is a new element in the Samsung Galaxy S10 lineup called Life Pattern. This Life Pattern feature will appear in the most expensive Samsung Galaxy S10 model, the Samsung Galaxy S10 X. That model will also feature 5G connectivity – where available, and more importantly, WHEN available. We've begun narrowing down the Galaxy S10 X release date range as well.
Life Pattern mode was described this week in a leak tied specifically to the Samsung Galaxy S10 X. That's the 5G version of the Samsung Galaxy S10, and the most expensive phone in the Galaxy S10 family. Also tipped onboard the Galaxy S10 X is a 6.7-inch Super AMOLED display, four cameras on its back, two cameras up front, and at least 10GB RAM.
SEE TOO: Galaxy S10 leaks turn into a flood
The Galaxy S10 X's Life Pattern was tipped as an Augmented Reality feature that'll automate smartphone functionality based on the phone user's usage patterns. It was suggested that Samsung will market this feature as a new way to work with a smartphone. Instead of the user adapting to the way the phone works, Samsung was tipped to consider suggesting that the smartphone will adapt to the user.
The same tipster suggested that Life Pattern would automatically set performance (processor power) and featured functionality. We're not expecting anything too groundbreaking at the start – unless, of course, Samsung's figured out a way to keep my phone's battery charged even when I forget to connect it to a charger overnight. That'd be super duper.
Release Dates
The Samsung event that'll reveal the bulk of the Samsung Galaxy S10 smartphone family will take place on February 20th, 2019. That's a month and four days away – right before the start of Mobile World Congress 2019. We're to understand that pre-orders for the Galaxy S10E, Galaxy S10, and Galaxy S10 Plus will begin within 24 hours of the announcements at this event.
It's quite likely that the Samsung Galaxy S10 X with 5G connectivity will be released in the second quarter of 2019. It all depends upon when carriers like Verizon and AT&T get their ducks in a row and release 5G network connectivity in a manner substantial enough to make the big move. I would not be shocked to see the Samsung Galaxy S10 X launched in May of 2019.