Galaxy S10 display color rated Visually Indistinguishable From Perfect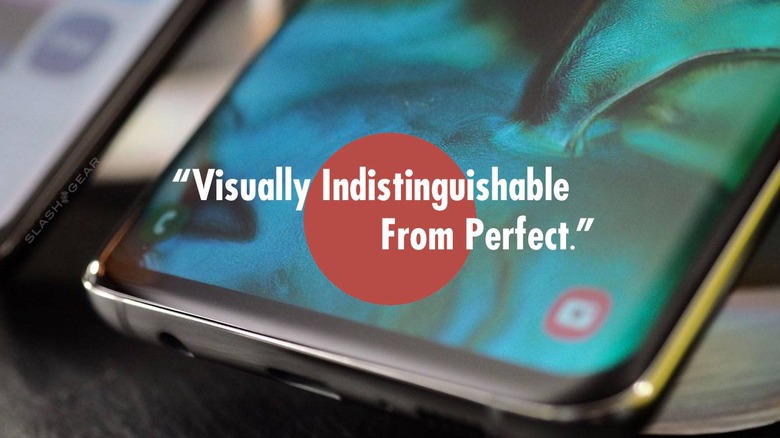 DisplayMate Technologies Corporation is one of mobile industry's go-to places for the absolute most detailed and in-depth rating of components. Display Mate takes the cake in this case with display quality measurement, specializing in evaluation of mobile displays. The Samsung Galaxy S10 was subject to a OLED Display Technology Shoot-Out by DisplayMate, the result of which had the company suggest that the phone raised the bar for highest quality in the industry.
We're at a point in history where displays on smartphones are so good, they can't really change too much within our limited human view. Display resolution doesn't need to get any more sharp – our eyes wouldn't be able to perceive any difference between what we get with 3K and anything more sharp than that. It is, today, color accuracy that the Galaxy S10 contends with.
According to DisplayMate, the Galaxy S10 raised the roof on Absolute Picture Quality and Absolute Color Accuracy with its OLED display panel. They've suggested that due to Samsung's implementation of Precision Factory Display Calibration, the Galaxy S10 matched or set 13 new Smartphone Display Performance (SDP) Records.
SDP Records by Galaxy S10 at DisplayMate:
·  Highest Absolute Color Accuracy*
·  Highest Image Contrast Accuracy and Intensity Scale Accuracy* 
·  Smallest Change in Peak Luminance with the Image Content Average Picture Level APL 
·  Smallest Shift in Color Accuracy and Intensity Scale with the Image Content APL
·  Highest Full Screen Brightness for OLED Smartphones
·  Highest Peak Display Brightness
·  Largest Native Color Gamut
·  Highest Contrast Ratio
·  Lowest Screen Reflectance
·  Highest Contrast Rating in Ambient Light
·  Smallest Brightness Variation with Viewing Angle
·  Smallest Color Variation of White with Viewing Angle
·  Highest Visible Screen Resolution 3K (3040x1440)
Entries with a star * were rated "Visually Indistinguishable From Perfect." Based on the records this phone set, along with the outstanding results in all over areas tested, DisplayMate rated the Galaxy S10 their "highest ever A+ grade."
It'll be interesting to see how the Galaxy Note 10 out-performs the Galaxy S10. Samsung has, after all, a tradition of beating itself to uphold here. Samsung is also the sort of company that aims to keep the records it's set – as they've done several times before. See for example that time the Galaxy Note 9 screen got the highest grade ever just his past August.
Have a peek at our Samsung Galaxy S10 hands-on and first impressions to learn all you'll need to know before your eventual decision on whether or not to drop a few bucks for a buy. Stick around for our big review, too!