Samsung Galaxy S10 hands-on: Family of Four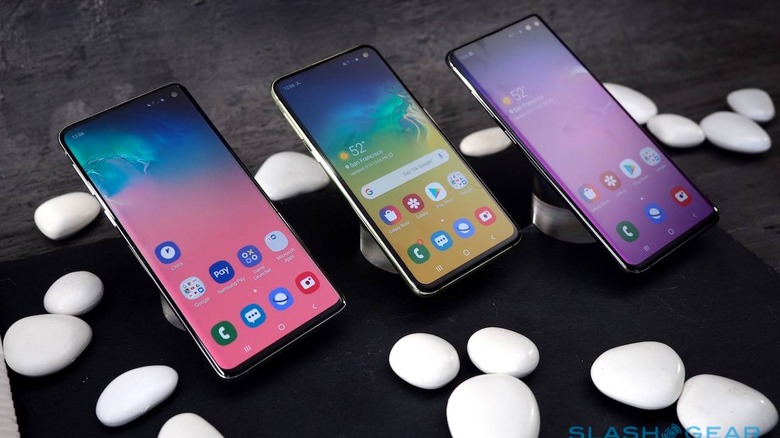 Months of leaks may have spoiled the surprise when it comes to the Samsung Galaxy S10, but it doesn't make the new family of flagship Android smartphones any less important in 2019. Making their debut ahead of Mobile World Congress – and throwing down a tech gauntlet in the process – the Galaxy S10, Galaxy S10+, Galaxy S10e, and Galaxy S10 5G also mark the tenth anniversary of the series. Turns out, they brought a few gifts with them.
A family of four
As you've probably already gathered, there's a full four new smartphones arriving under the Galaxy S10 banner this year. The S10 and S10+ are fairly straightforward: 2019's updates to the two core phones in the line-up. The S10e and S10 5G, though, are each something new.
Samsung's strategy is an S10 for every buyer. So, with the S10 catering for the tech-savvy early-adopter, and the S10+ for the spec-hound who won't be satisfied until everything is maxed out, the new Galaxy S10e targets a consumer who wants a more compact form-factor, but without sacrificing on the key technology. Of course, it's also Samsung's response to Apple's iPhone XR.
The Galaxy S10 5G, meanwhile, will arrive a little later. As the name suggests, the fourth member of the family will be the first with 5G support. Initially it'll be a Verizon exclusive, though it'll go on to be offered on AT&T, T-Mobile, Sprint, and Xfinity.
An Infinity-O Display
It's the "next level" of Infinity Display, Samsung boasts, and I have to say it does look good. Samsung Display's Infinity-O technology integrates the proximity and light sensors under the Super AMOLED screen, then laser-cuts a gap for the front facing camera in the upper right corner. Each member of the new S10 family gets the new screen, thus missing out on the contentious "notch" other smartphone-makers have been forced to accommodate.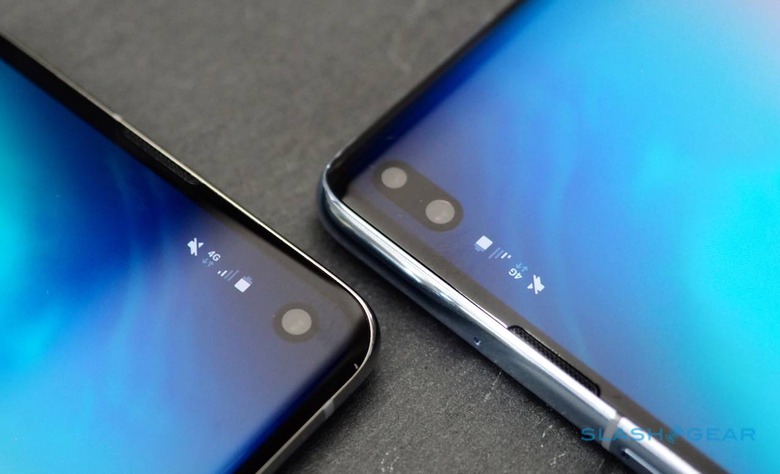 The pocketable S10e has a 5.8-inch display, with the S10 stepping up to 6.1-inches, and the S10+ at 6.4-inches. The S10 5G will have a huge, 6.7-inch display. Each curves around the left and right sides of the handset, while the top and bottom bezels are even skinnier than they were on the Galaxy S9.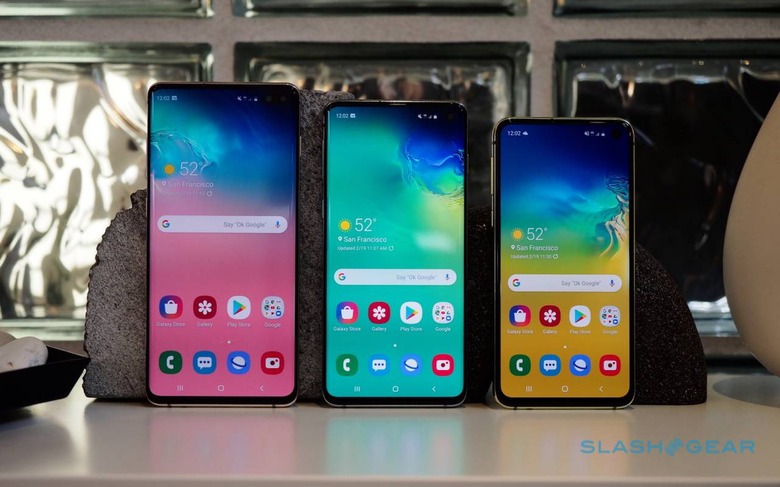 It's not just the bezels that have improved. Samsung says these panels are the first in the world to be HDR10+ certified, as well as TÜV Rheinland Certified for eye comfort thanks to blue light reduction. They should do better outdoors in bright sunlight, too, and have better color accuracy. The S10e has a Full HD+ screen, while the other phones step up to Quad HD+.
Goodbye iris, hello in-display fingerprint
One thing there wasn't space for in the Infinity-O display was Samsung's iris scanner. That's been dropped in favor of an ultrasonic in-display fingerprint scanner on the S10, S10+, and S10 5G. The S10e gets a side-mounted sensor instead.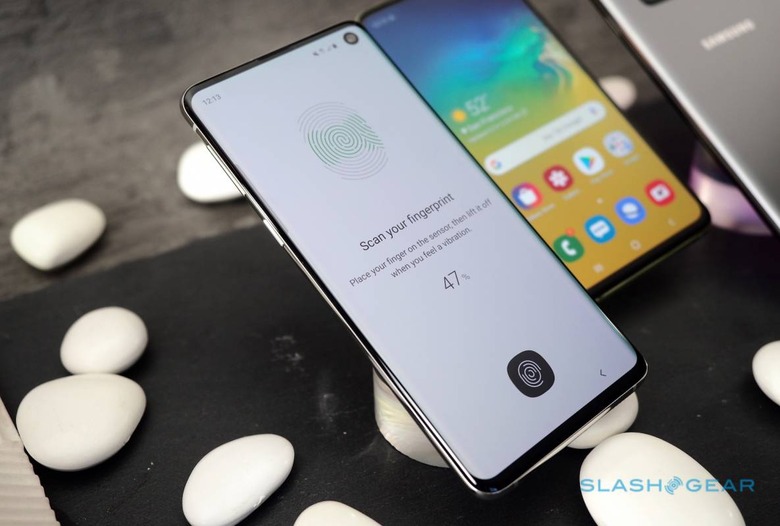 The in-display scanner is positioned in the lowest quarter of the phone's screen, just above the USB Type-C port. A fingerprint graphic shows up to help you press against the right spot, and there's a neat ripple animation when you tap with a registered finger. Fingerprint data itself is stored on-device only, in the Knox secure zone; for the first time it's FIDO Alliance Biometric Component certified, too, so we can expect banking apps and more to tap into it.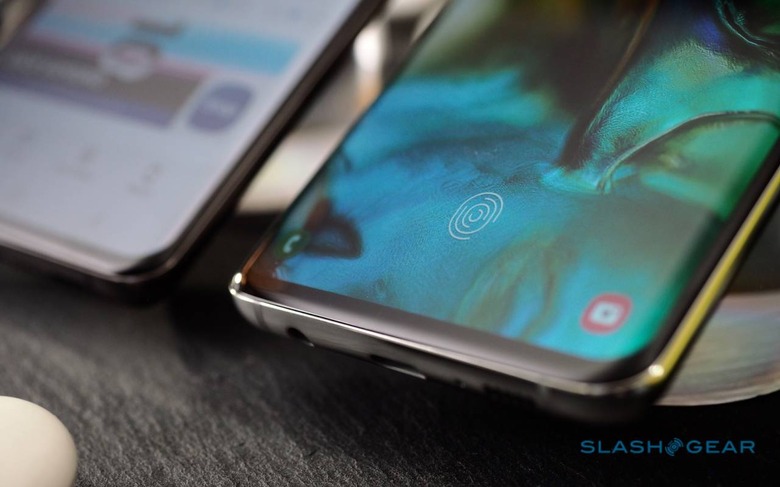 The training process is just the same as for the old, rear-mounted fingerprint scanner on the Galaxy S9, but actually using it is much smoother. There was always a frustrating hunt-and-tap involved with last year's phone, but the Galaxy S10's sensor is far easier to locate. It'll work even if the display is turned off, too, meaning in one tap you can be straight at your home screen. Get ready, of course, for the inevitable Galaxy S10 in-display fingerprint versus iPhone XS Face ID showdowns.
A wider camera
Photography has always been a cornerstone of the Galaxy S-family experience, and Samsung is throwing a whole lot of sensors at its phones this year. Now, there's a new 16-megapixel ultra-wide, 123-degree sensor on the back: Samsung says that's the same range as human vision. It fits a whole lot more into the frame, and cleverly also works in panorama mode as well.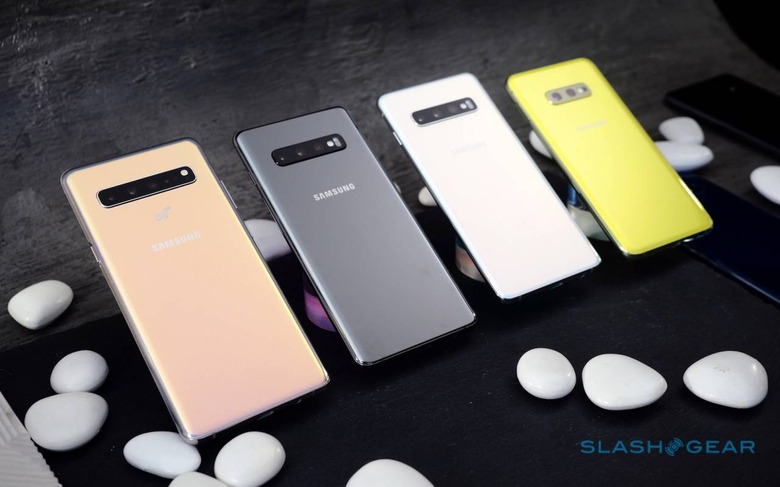 It's paired with a 12-megapixel, 77-degree wide camera; that uses Samsung's Dual Pixel AF, switching between f/1.5 and f/2.4, unlike the f/2.2, fixed-focus ultra-wide camera. The Galaxy S10, S10+, and S10 5G throw in a 2x optical zoom, while the 5G phone also adds a 3D Time-of-Flight (ToF) depth sensor. As you zoom in and out, Samsung's camera software automatically switches between the three lenses, and it seems to do so much more smoothly than other such phones we've seen. However, you can only capture with one camera at a time.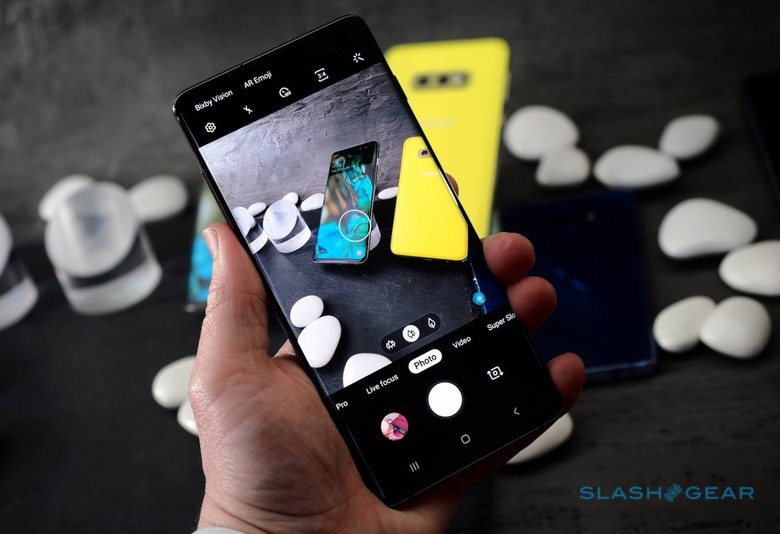 Up front, meanwhile, there's a 10-megapixel camera with Ultra HD video support. The S10+ and S10 5G add a front RGB depth camera too, which Samsung says improves portrait mode. All four, though, get a portrait mode front and back, and since the rear version now uses the wide and ultra-wide lenses, there's no cropping as used to be the case.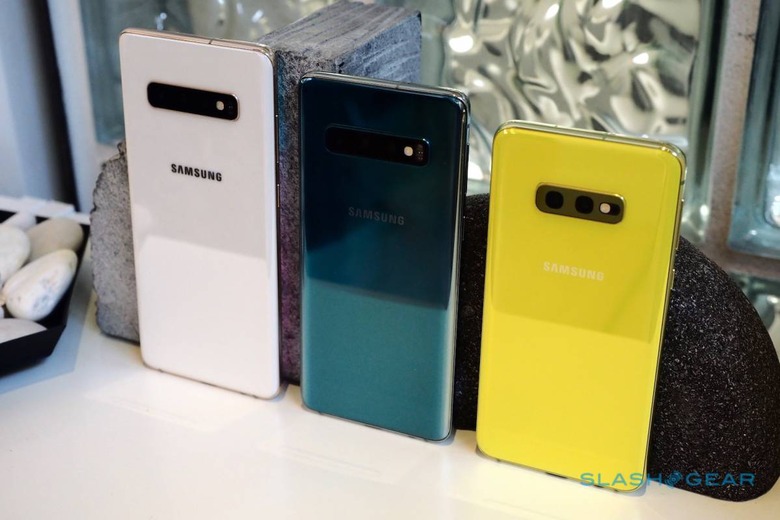 Samsung has used a new NPU (Neural Processing Unit) to power its Scene Optimizer in the camera, and it can now spot ten more scene types compared to the Galaxy S9. They include clothing, faces, people, shoe, stage, vehicle, drink, cat, dog, and baby. The same technology also gives shot suggestions, figuring out what you're taking a photo of and then giving assistance, like guiding you in composition.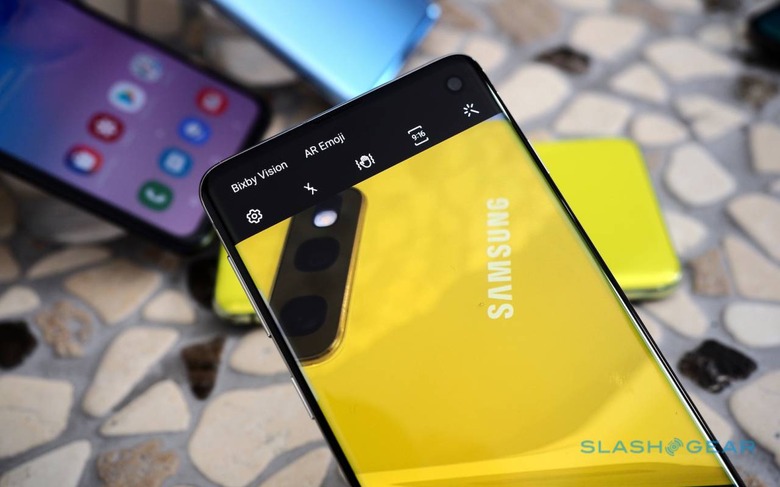 For video, there's 4K Ultra HD capture with HDR10+, and a new Super-Steady video stabilization system. That works digitally on the ultra-wide lens – the regular wide and optical zoom lenses each have optical image stabilization (OIS) – to smooth out action shots.
A Snapdragon 855 heart
Surprising no-one, the Galaxy S10 uses Qualcomm's latest Snapdragon 855 chipset. How much memory it's paired with depends on the phone, as does storage. The Galaxy S10e, for example, will come in both 128GB/6GB and 256GB/8GB configurations. The Galaxy S10 will have 128GB/8GB and 512GB/8GB options.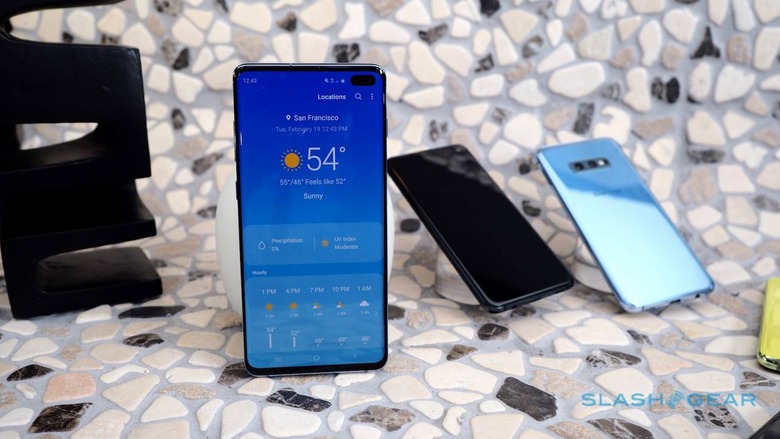 The Galaxy S10+ will offer 128GB/8GB, 512GB/8GB, and 1TB/12GB versions. Finally, the Galaxy S10 5G will come in a single 256GB/8GB configuration. All but the 5G phone will have a microSD slot; each also gets USB Type-C and a 3.5mm headphone jack to keep the purists happy. AKG-tuned speakers and Dolby Atmos headphone support round out the audio.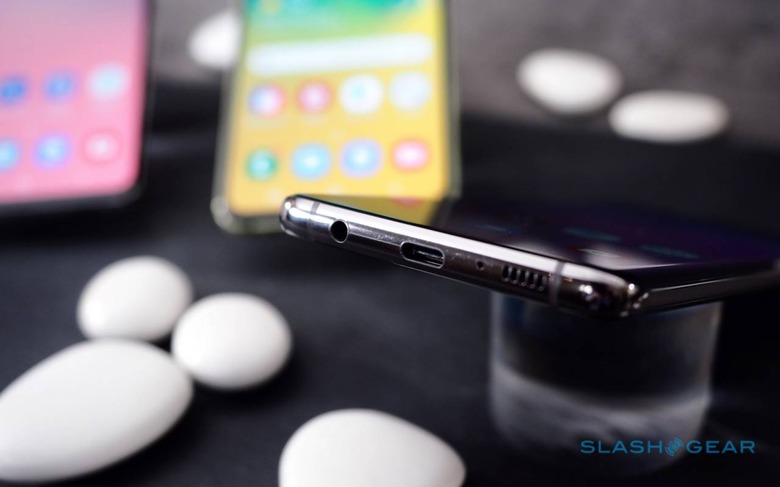 As you'd expect, they're IP68 water and dust resistant, and they support Fast Wireless Charging 2.0. There's also LTE Cat.20 for up to 2.0 Gbps downloads, network depending, and WiFi 6 802.11ax.
Samsung says that we can expect apps to load faster over time, given the S10's ability to track and learn from how we use our software. If you typically open up your news app of choice and a music app first thing in the morning, eventually the S10 will start pre-loading that in the background at the correct time. It works in reverse, too: if the phone learns that you don't use, say, social networking apps during office hours, it'll preemptively close those to save power.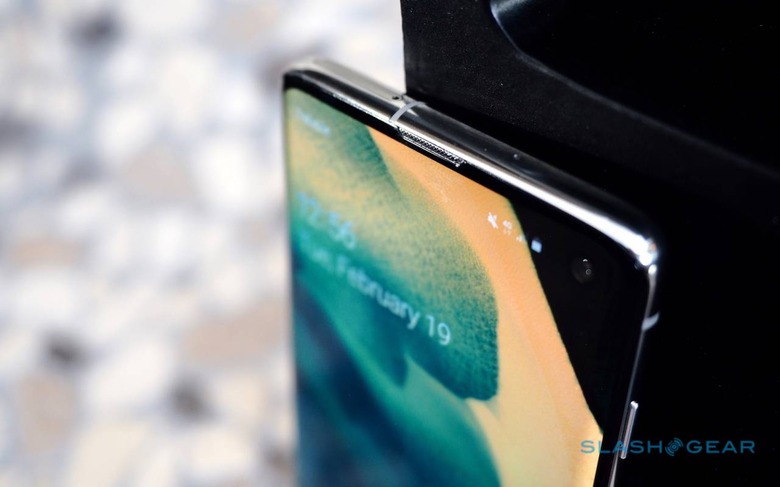 Then there are Bixby Routines. Samsung's assistant hasn't had a particularly easy time of it, and frankly is still yet to conclusively prove its worth. Still, routines like automatically turning off WiFi, turning on Do Not Disturb, and loading up Google Maps and Spotify when the S10 spots you're in the car could be useful. Bixby can also suggest other routines, based on your personal habits.
Big, generous batteries
To meet its new promise that the S10 family should deliver 24+ hours of use on a single charge, all four have noticeably large batteries. The S10e has a 3,100 mAh pack, while the S10 gets 3,400 mAh and the S10+ 4,100 mAh to play with. When the S10 5G arrives, it'll bring 4,500 mAh with it.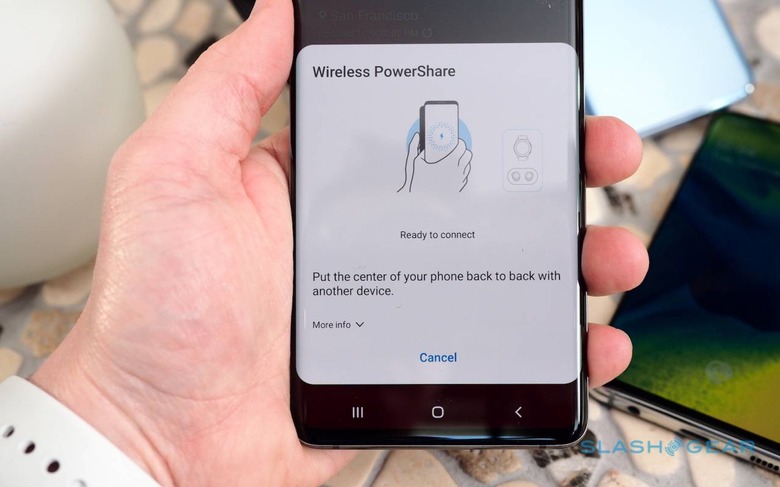 You can share that power too, if you prefer. Like Huawei's latest phones, the Galaxy S10 supports charging other devices via Qi. Samsung is calling its system Wireless PowerShare, and with it you'll be able to top up other peoples' phones, accessories, and more. It's a smart system too: even if you forget all about the fact that you're charging, it won't allow the S10 to drop below 30-percent battery itself.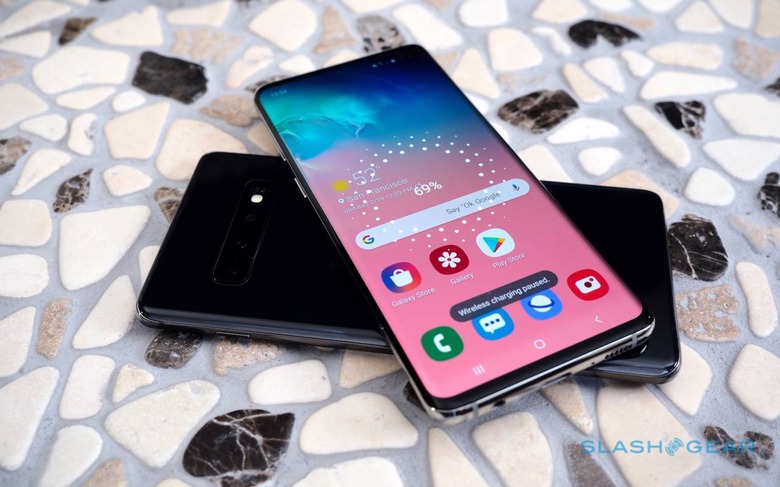 Galaxy S10 price and availability
Samsung's carrier partners will weigh in with their S10 contract pricing, but the device-maker has already confirmed how much the new phone will be unlocked. For the Galaxy S10e, you'e looking at $749.99, while the Galaxy S10 will start at $899.99. The Galaxy S10+ will begin at $999.99. Pricing and specific availability of the Galaxy S10 5G will be confirmed closer to launch, later in the first half of 2019.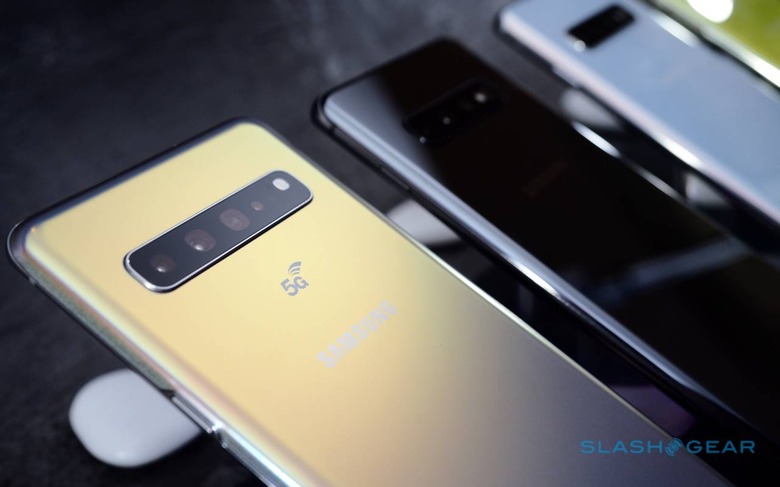 As you'd expect there's a full range of cases and other accessories. Samsung is also adding the new Galaxy Buds to its range, around 30-percent smaller than the old earbuds, but have dual adaptive microphones, AKG-tuned drivers, and a charging case with wireless Qi support – such as when placed on top of the Galaxy S10 in Wireless PowerShare mode. Samsung says you should get 5-6 hours of use from a charge.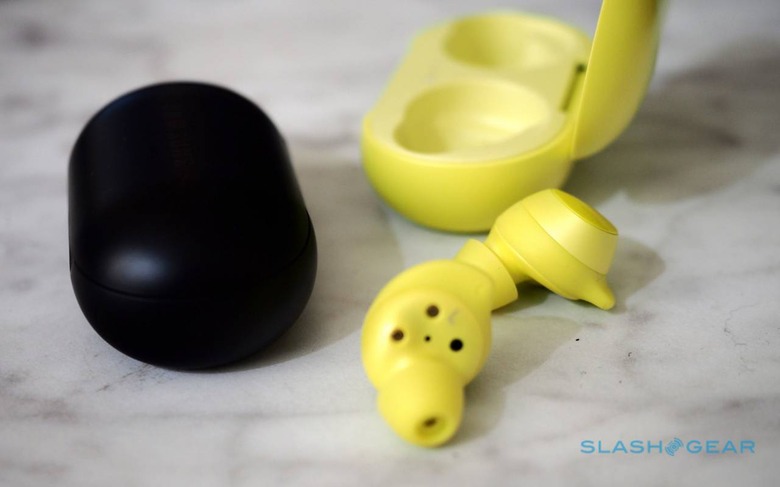 Samsung will begin taking preorders for the Galaxy S10e, S10, and S10+ from February 23. The smartphones will go in sale come March 8. Those pre-order will get a free set of Galaxy Buds thrown in as well.
For colors, the US will get Prism White, Prism Black, Prism Blue, and Flamingo Pink. Samsung will also offer Ceramic Black and Ceramic White versions, though only of the 512 and 1TB models of the Galaxy Galaxy S10+; it's real ceramic, too. Outside of the US, there'll be Prism Green and Canary Yellow finishes as well.
Galaxy S10 Verdict
It's easy to accuse the smartphone space of stagnating. After all, in recent memory at lease, it has felt like we're some years past the age of truly groundbreaking features. Samsung, though, goes some way to confounding those assumptions.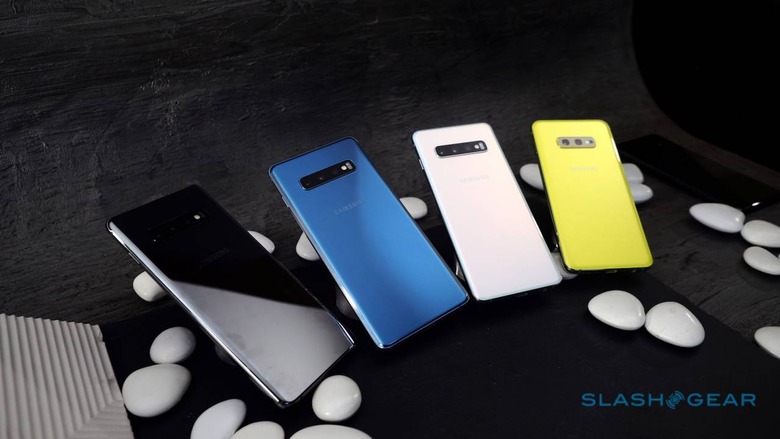 I suspect the Galaxy S10e will be popular among those still frustrated by the gradual trajectory of phones getting larger. While it matches the iPhone XR on price at launch, meanwhile, I suspect Samsung and the carriers will soon heap some promotions atop it, too.
The S10 and S10+ are two sides of the same coin, meanwhile. They feel instantly recognizable as belonging to the Galaxy family in your hand, but the reality of the user-experience is that it's much cleaner, crisper, and generally rewarding than it ever was before. We've seen the signs there already with One UI, but it's even more polished on these new devices.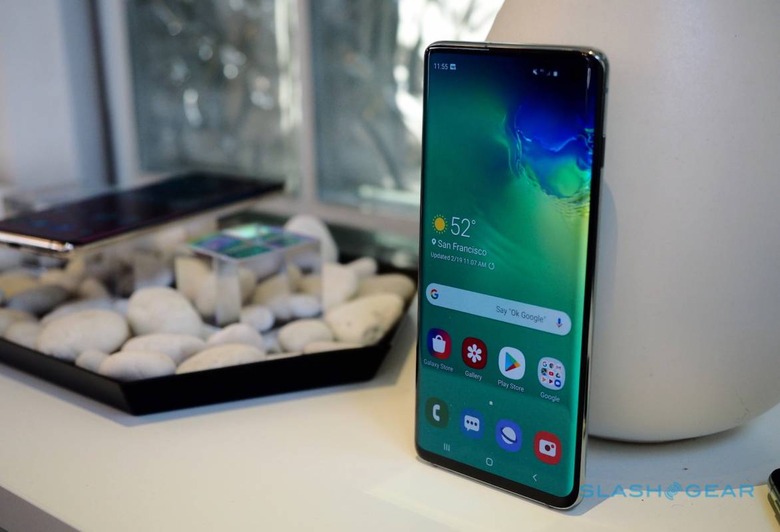 It's too early to say whether the Galaxy S10 5G is right on time or could've done with a longer stay in the oven. Still, three out of four devices being compelling and capable from the get-go is impressive indeed. We'll be putting the Galaxy S10 family through its paces for our full review soon, to find out if the reality lives up to the promises.