Galaxy S III leaked via Samsung evolution chart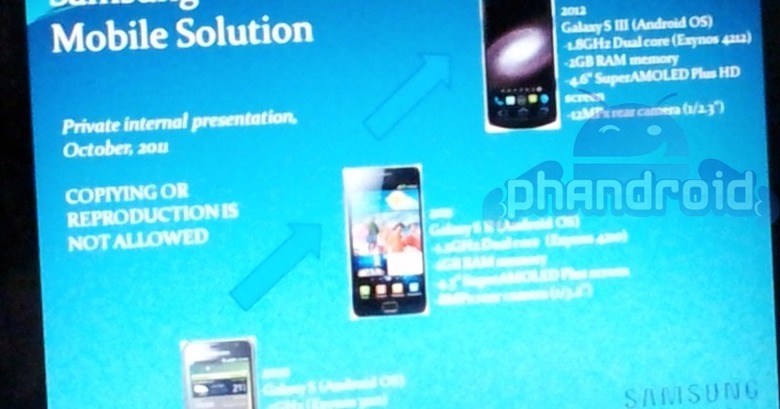 What you're about to see is a chart reportedly leaked from a Samsung internal presentation that shows off a 2012 release by the name of Galaxy S III. For those of you still reeling from the recent release of the USA editions of the Galaxy S II, (with T-Mobile's coming out this week), you might think – how could they release the next generation so soon? Well, ladies and gentlemen, because the Galaxy S II has been out internationally since early this year and by all means, it's time to refresh! Technology in the mobile sector is moving so fast that your device is outdated by the time you turn it on, and Samsung's right here on the cuff. Let's have a look!
While you might feel like the device in the upper right-hand corner of the presentation slide above looks awfully like the Samsung Galaxy Nexus (aka Nexus Prime) we saw in a video last week, you'd be totally wrong! Or it could be that they're one in the same device, OR it could be that Samsung will produce one, modify it, and release it again with a different name. We're sure as heck still in the dark on that one. Meanwhile what we've got here is one amazing device, it seems, complete with specifications that blow away the current generation of devices by a long shot.
This Galaxy S III is set to have a dual-core Samsung Exynos 4212 1.8GHz dual-core processor, a 4.6-inch Super AMOLED Plus HD display, 2GB or RAM, and a 12 megapixel camera on the back. The source who provided this image to Phandroid has reported that the numbers aren't quite solid yet, and that this screen is certainly just a jumping off point for the future device, especially the mystical PenTile-less Super AMOLED Plus HD display. The camera will have a W750 BSI CMOS sensor, the phone will run on LTE, and of course the whole thing will be able to work with Google Wallet via built-in NFC.
Also note that the same source says that although it seems that this device will be running on Android Ice Cream Sandwich, it will retain its four physical buttons below the display. This seems strange, and indeed there is at least one more indicator that this screen might be fake: the original Galaxy S appears here to have shipped with another Exynos processor when we know that it most certainly did not. Turn you away? It's still fun to dream.
[via Android Community]