Galaxy S II Android 4.0 ICS official early update leaked, TouchWiz intact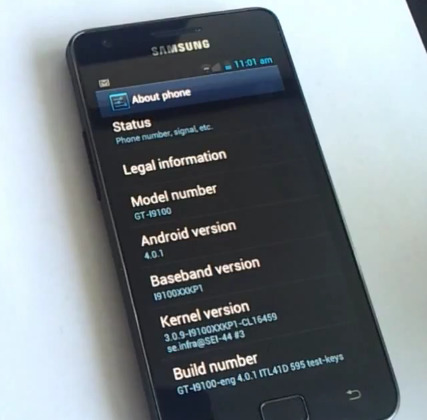 What you're about to see is a video of a person using the international edition of the Samsung Galaxy S II with what SamMobile blog says is the first build of Ice Cream Sandwich made for the device by Samsung – what you'll notice here is not just that the device has the newest version of Android on it, but that Samsung's own custom user interface has been fully integrated. When we first saw the TouchWiz that's closest to what you're about to see, it was way back at the start of 2011 at Mobile World Congress (and the famous CTIA Philip Berne event) with the launch of the original Galaxy S II (aka the one you see here), then again in a slightly updated version here in the USA. What this represents is Samsung's continued reliance on said user interface to differentiate their products from the competition.
If you ask any one of our staff here at SlashGear, they certainly wouldn't say that TouchWiz is the least pleasing of all the custom user interfaces that Android device manufacturers have implemented on their products, but you wont find a single person who wouldn't rather simply have the original stock Ice Cream Sandwich as presented in the other Samsung hero device at the moment: the Galaxy Nexus. That's why you'll find more than a couple Android superfans out there today freaking out over the idea that they wont get their precious Vanilla-flavored Ice Cream Sandwich on the official update to their Galaxy S II units come early 2012.
This build is called Android 4.0.1 I9100XXKP1 and is a custom ROM at the moment for those of you looking to flash it to your device. Should you choose to run this ROM, know that it is by no means a final build, and not a lot of things work at the moment. For those of you looking to be a bit adventurous, you can access the download over at SamMobile (password: samfirmware.com) — and note, for those of you not into the whole hacking world, that this will void your warrantee more than likely. Good luck, everyone!
[via Blogsdna]