Galaxy Note 8.0 calls out iPad mini before it's revealed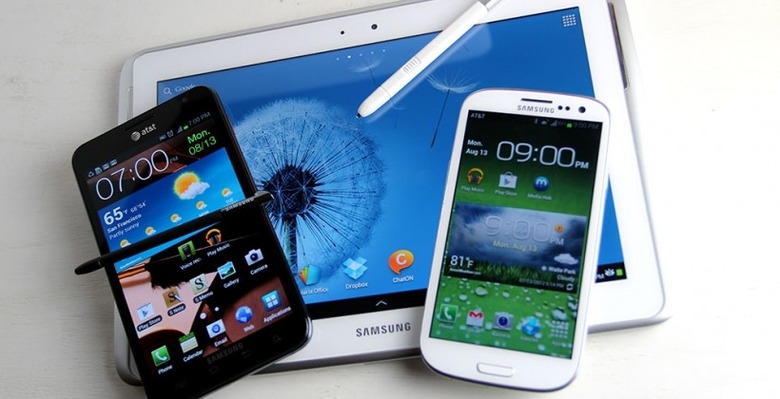 This week we've been hearing our fair share about this next-generation Samsung device known as the Galaxy Note 8.0, and today it's become clear: the competition is on for the iPad mini. While the iPad mini's display is 1024 x 768 across 7.9-inches, the Galaxy Note 8.0 has been tipped as 1280 x 800 across 8-inches – that's just about as close as it gets without perfect replication. We've also seen a supposed early press image leak from the likes of a fellow by the name of @Clasificatearg that, even if it's not straight from Samsung, gives us an idea of how similar this device will likely be to the Apple offering both aesthetically and technically.
What you see below, again, is not confirmed to be legitimate straight from Samsung – but it could very well have been sourced from them originally. With a body that doesn't look all that different from a cross between the Samsung Galaxy Tab 2 7.0 and the Samsung Galaxy Note 10.1, complete with an S-Pen slot on the back, you'll see how one might believe this is the real deal.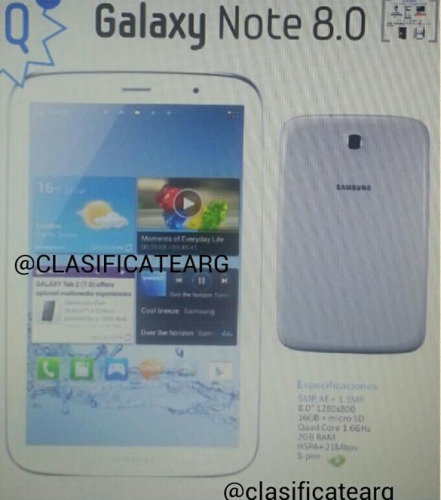 This machine is also being said to be toting a quad-core 1.66Ghz processor – that's the one element that doesn't seem to fit the puzzle. That is unless it's an upgraded version of the Exynos 4 that sits inside the Galaxy Note 10.1 rather than the Exynos 5 (OCTA) we first heard about earlier this month. Rumors may be converging correctly on the idea that this will be a product more like an in-between product (between the Note II and the Note 10.1) rather than the first hero of the next generation.
In that way – including the spec that tells us this machine will work with HSPA+ rather than 4G LTE – we'll be seeing what Samsung will be able to deliver for a price that's lower than the iPad mini is being sold for. Complete with the newest version of Android Jelly Bean, a powerful processor, and a display that's as sharp as the iPad mini, would you be able to part with LTE speeds for a lower price?
That's what Samsung will be banking on, just you wait. We'll be seeing this device at Mobile World Congress 2013 in Barcelona next month. Join us for the Samsung Unpacked event specifically (date incoming) and make sure you hit up our MWC 2013 tag portal to follow along up until the end of February!
[Image via SamMobile]