A series of Samsung smartphone and tablet-like devices have been leaked in a roadmap that very much appears to be showing the first full quarter of the manufacturer's 2013 market year. This roadmap comes from TechnoBuffalo (as the slides here make clear) and they're reasonably certain that their sources are legitimate – from what we're seeing here and the collection of tips from sources we've seen over the past few weeks, we're inclined to believe it as well. What you're going to see here are a set of Samsung devices that, other than the first entry with the Galaxy Note 8.0, appear to be mid-to-lower-tier entries for the international end-user.
The Samsung Galaxy Note 8.0 has been tipped here as coming with an 8-inch 1280 x 800 pixel resolution TFT LCD display, working with Android 4.2 Jelly Bean right out of the box paired with a quad-core 1.6Ghz processor we must assume is a Samsung Exynos SoC. This machine is being shown here to be working with S-Note, S-Memo, and S-Planner apps as each Galaxy Note device on the market right now does, and will be delivered with a 5 megapixel camera on the back as well as a 1.3 megapixel camera on the front. Inside you'll have either 16 or 32GB storage as well as a microSD card slot that will likely be able to work with 64GB cards.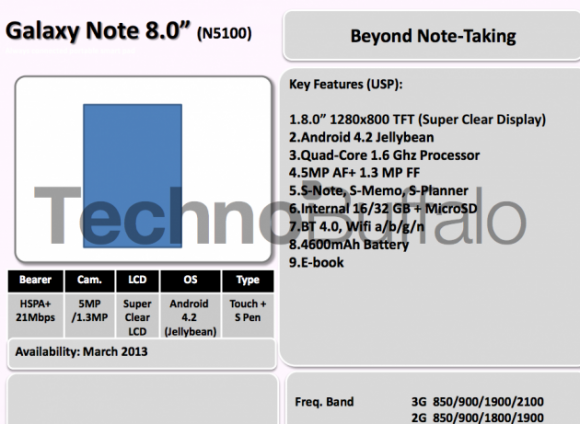 Next is the Samsung Galaxy X Cover 2 (or Xcover as it's sometimes been referred to in past iterations). This machine is a hardcore device made for dustproof and waterproof action and works with a 4-inch WVGA TFT LCD display and a dual-core 1GHz processor – made for the mid-tier market and construction workers, basically. The Galaxy Young is what you've heard of before as the Galaxy Y, coming in as a "compact full featured smartphone" as they say with a 3-inch WVGA display and a single-core 1GHz processor working with Android 4.1 Jelly Bean.
The Galaxy Pocket Plus will be bringing a 2.8-inch HVGA display with HSDPA 7.2 and a single-core 850 MHz processor to the Android 4.1 Jellybean game – perhaps the smallest and lowest-powered smartphone to hit the market with that software, mind you. There's a single-sim version of the Pocket Plus said to be coming in January (this month) and a dual-sim version coming in February. The Galaxy Young is tipped here to be coming in April, while the Galaxy X Cover 2 will be coming in February, and Note 8.0 hits in March, all of these dates included in 2013.