Galaxy Note 7 recall update: Do I have an exploding phone?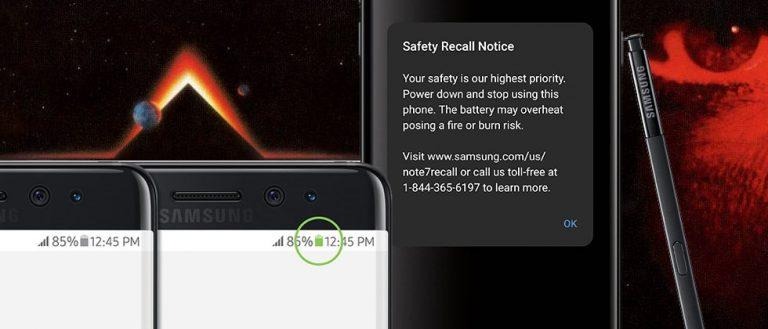 Samsung Galaxy Note 7 users that purchased their phone earlier than last week and haven't exchanged them for a new unit: yes, this is an "exploding phone." One of the top search terms at Google over the past week related to the Galaxy Note 7 has been "exploding" edged out just a bit by the word "recall". Today Samsung made it clear where Galaxy Note 7 owners should go to participate in a recall, and how they'll know if their device is, indeed, a new model.
The new model, says Samsung, will feature a green battery icon on its home screen rather than the standard white. It is with this indicator that airplane hosts will be able to check for fire-unfriendliness.
The first wave of Samsung Galaxy Note 7 units – the wave being recalled – will continue to sport the white battery icon and will soon show something else, as well. After a software update coming imminently, users will see a message about the recall every time they power the device on.
This message will tell the user to power the device down and return it to an official recall point immediately.
In this official Samsung Galaxy Note 7 exchange program, users will be able to do the following:
1. Exchange your current Galaxy Note7 device with a new Galaxy Note7 as approved by the CPSC*; or
2. Exchange your current Galaxy Note7 for a Galaxy S7 or Galaxy S7 edge and replacement of any Note7 specific accessories with a refund of the price difference between devices; or
3. Contact your point of purchase to obtain a refund.
SEE: Return your Galaxy Note 7 now, immediately, post-haste!
Samsung also says that "Customers who exchange a Note7 device will also receive a $25 gift card, in-store credit, in-store accessory credit or bill credit from select carrier retail outlets."
Samsung has their own online Serial Number checker that'll tell a user whether or not they have a device that needs to be exchanged, too. That can be used by a Note 7 user who might not know whether or not their device was sold before September 15th, 2016.
Samsung has made clear that any Galaxy Note 7 sold before September 15th, 2016, inside the United States, is subject to the recall. They also say that this battery cell issue causing the recall does not apply to phones sold outside the USA, nor any device sold after September 15th, 2016.
Sold by an official Samsung store or major carrier, that is to say. Users should continue to be wary of first-gen devices when attempting to purchase units from 3rd-party sources. If unsure of the product's safety, check the serial number as indicated above.
* New, safe, approved Galaxy Note 7 units will be made available at major carriers and retail outlets "no later than September 21st", so sayeth Samsung.
The following contact points can be used to find exchange points for the Galaxy Note 7. Samsung online store purchases should contact Samsung at phone number: 1-844-365-6197.
• AT&T: http://www.att.com/esupport/ 1-800-331-0500
• Best Buy: http://www.bestbuy.com/site/clp/ 1-888-237-8289
• Sprint: http://newsroom.sprint.com/news-releases/ 1-888-211-4727
• T-Mobile USA: https://explore.t-mobile.com/samsung-galaxy-note7-recall 1-844-275-9309
• U.S. Cellular: http://www.uscellular.com/about/ 1-888-944-9400
• Verizon Wireless: http://www.verizonwireless.com/smartphones/ 1-800-922-0204