Galaxy Note 3 not the only one free of "benchmark shenanigans" accusations [UPDATE]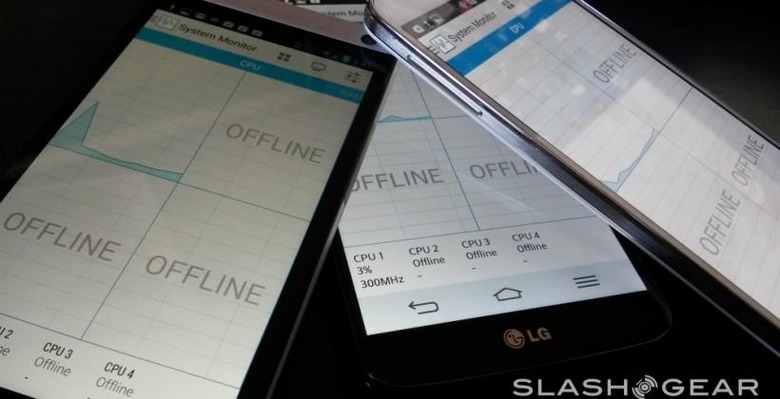 As the Samsung Galaxy Note 3 appears on US-shores we've seen talk of not quite on-the-level benchmark boosting by the likes of what, at first, would seem to be the manufacturer of the smartphone. This report originates with Ars Technica where they suggest that the smoking gun is the fact that this smartphone brings up four full-powered CPU cores whenever it's asked to open any one of several big-name benchmarking apps. What we've found is that this situation is not – by any means – limited to Samsung's hardware.
We've run the same System Monitor app by Christian Gollner on several devices – with more on the way. What we've found is that the Samsung Galaxy Note 3, the HTC One, and the LG G2 all work with similar boosts in benchmarking apps. While outside of these apps, each of these devices works with one CPU core or – at most – two CPU cores without apps running, it would seem that nearly without fail the four-core fire-up appears in most major benchmark tests.
NOTE: Samsung has denied allegations of benchmark boosting in the recent past too, for what it's worth.
What you're seeing first is the HTC One, working here with a Nexus build as seen in the Google Play edition of the smartphone. Here you've got the Qualcomm Snapdragon 600 quad-core processor under the hood, and you'll find each core running full-speed whenever each one of the following benchmark apps are initiated: Geekbench 3, Quadrant Standard, Antutu Benchmark, and 3DMark.
Next you'll see the Samsung Galaxy Note 3 working with an extremely similar set of results. This device works with a Qualcomm Snapdragon 800 quad-core processor, and you'll find one CPU core working outside of benchmark apps, and four working at full-clock inside benchmarking apps. Each of these benchmarking apps – and System Monitor – come directly from Google Play.
With the LG G2 we've got a slightly different situation. The LG G2 quite often runs with two cores at low power, while of the four benchmark tests we've utilized, just two of them saw the LG G2 firing up four cores. With 3DMark and Geekbench 3, the LG G2 seems to continue to relax while tests are run.
Ars Technica turned up a few codes inside the Samsung Galaxy Note 3 that suggest that a file called "DVFSHelper.java" is responsible for this boost in benchmark apps specifically. This file shows benchmarks like CFBench, Nenamark2, Quadrant, Linpack, and Geekbench 2. We wouldn't be surprised to find a similar file in a variety of smartphones on the market today (not necessarily the ones shown in this post, but still. We're also not entirely convinced that it's just Samsung's doing.
If you have a device we've not yet added to the list and would like to add to this report, please, by all means, let us know. Meanwhile the investigation continues into what's going down in this artificial test boosting contest. Also feel free to chime in on if you feel this specific targeting of benchmarking apps is fair – or if it matters to your end experience.
UPDATE: AnandTech agrees. Have a peek at the chart below to see how far this optimization situation goes. As you'll note, the following devices appear to be "free from cheating" entirely: Moto RAZR i, Moto X, Nexus 4 (LG), Nexus 7 (2013, ASUS), and NVIDIA SHIELD.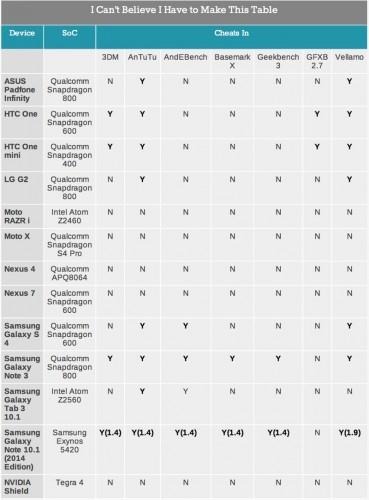 Look like enough proof for you that there's not one single central controversy surrounding the Galaxy Note 3? It should be shocking to you that only one device was tested in the first place – just as shocking that the rest of this pack optimizes their devices for benchmarking too.