Galaxy S 4 benchmark-tampering allegations denied by Samsung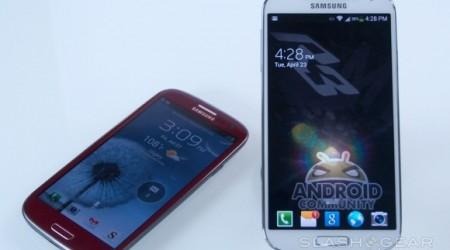 It was discovered yesterday that Samsung allegedly tampered with the Galaxy S 4 in order to provide the best possible benchmark scores in different apps. However, Samsung has addressed the allegations and says that they haven't done such a thing, saying that they didn't use any sly tricks to achieve higher benchmark scores.
AnandTech reported that Samsung apparently messed with the Galaxy S 4's internal chips by allowing the graphics processor to run at a higher clock speed than normal, cranking it up to 533MHz vs. 480MHz. This essentially gave the phone quite the boost that normal users wouldn't be able to obtain otherwise.
On Samsung's Korean website, the company addressed the benchmark-tampering allegations made by AnandTech, saying that under normal conditions, the Galaxy S4 operates at up to 533MHz at its best performance. The company also says that some games don't require the maximum clock speed, so this means the GPU operates at different levels in order to save on battery and such.
However, Samsung says that full-screen apps such as "S browser, gallery, camera, video player, etc." require "the highest performance" in order to function properly, and this includes benchmarking apps, which was the culprit that caught the eye of suspicious users. These kinds of apps require the full 533MHz, according to Samsung.
Previously, AnandTech discovered a string of code that mentioned several benchmarking apps, and when these apps are loaded, the phone is told to ramp up its GPU performance to full speed, which raised a lot of eyebrows. However, Samsung says that this is the case for all apps that are full-screen (a.k.a. apps that hide the status bar).
SOURCE: Samsung