Galaxy Note 10 might not need a front camera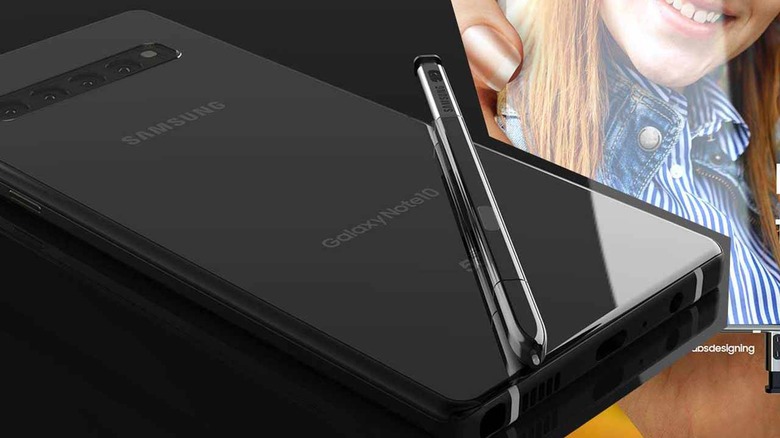 The Samsung Galaxy Note 10's rumored to roll with a camera embedded in its stylus – which in turn is embedded in its body. But does Samsung really need to go to this extent just to keep the front-facing camera in play? When it comes to persisting reasons for the existence of the front-facing camera on the Galaxy Note, could it be that Samsung's ready to just do away with the camera altogether?
The Samsung Galaxy Note 10 was pictured this week with a conspicuously placed camera – right in the tail end of the S Pen. This is consistent with a patent or two filed by Samsung in the past – they've got the legal rights to make the tech locked down. But having a patent and executing a final product are two very, very different things. They might never make such a thing at all.
On the back of the Galaxy Note 10 are a tipped 4x lenses, one each of each of its various high-powered cameras. Three of the cameras are rumored to be relatively traditional – wide-angle, standard, etcetera. The fourth unit was tipped last week to be a 3D scanning ToF sensor. That stands for Time of Flight, and it's the way of the Augmented Reality future.
Assuming what Samsung's done with its most expensive S family model to date – the Galaxy S10 5G – it would appear that both the front and the back-facing cameras are here to stay. But is the Galaxy Note 10 a different creature? Could this be prime time to deliver a Galaxy Note that breaks the mold, as the Note family's done several times before?
Or could it all be as simple as including a display on the back of the phone, turning the back-facing cameras into front-facing cameras for double duty? That'd certainly make way for the 3D ToF sensor to be a prime-time face scanner, wouldn't it? Cross your fingers Samsung continues to get weird with it this August.