Galaxy Fold Torture Test Ends Early: Falls Short Of Samsung Display Promise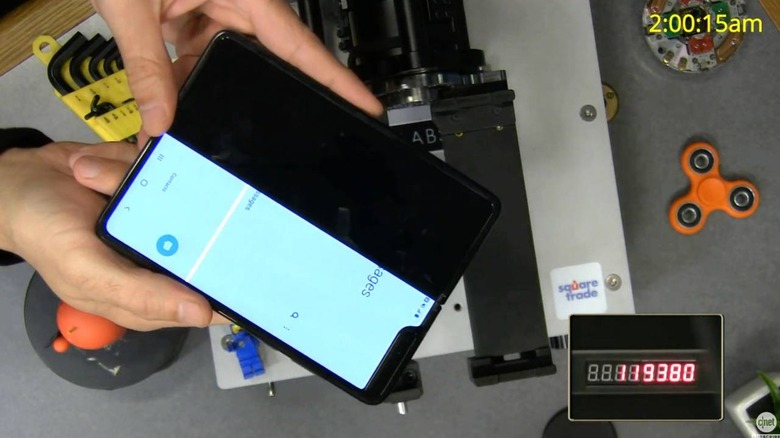 How long can you expect your foldable smartphone to last, with day after day of repeated opening and closing? Samsung is quoting around 200,000 times for its Galaxy Fold, though initial testing seems to suggest that might be somewhat generous for the Android handset and its flexible OLED panel.
Samsung started out upbeat about the Galaxy Fold's resilience. "Naturally, given the smartphone's design, a Folding Test was a pivotal part of the Galaxy Fold's durability assessment," the company said back in March. "This test, which examines whether the Galaxy Fold can outlast 200,000 folds and unfolds (or around five years of use, if used 100 times a day), takes a full week to complete."
The Galaxy Fold's first outings into the wild earlier this year, however, suggested that its lifespan could be measured in days instead. After a spate of reviewer unit failures – some from user-error down to unclear industrial design, others seemingly because of the hardware itself – Samsung took its phone back to the lab and reworked it. With a new hinge, and a new screen design, the Galaxy Fold was ready for round two.
Unsurprisingly, some were skeptical about the promises. Doubly-so, when you're talking about a cutting-edge device that costs $1,980. So, warranty firm SquareTrade came up with a testing rig that would allow the Galaxy Fold to be repeatedly opened and closed, to mimic Samsung's own tests.
CNET started that process up yesterday, expecting it to run several days before hitting the 200,000 folds mark. Unfortunately for its victim device, the test proved more arduous than Samsung's promises might have suggested.
After 119,380 folds on the "FoldBot" rig, it was nearly game-over for the Fold. The hinge had lost its snappy feeling, CNET says, and more importantly half of the screen had stopped working. While the right hand side was still functional, the left gave up the ghost.
A thousand or so folds later and it was all over: 120,169 runs on FoldBot, and the handset died. Overall it took about fourteen hours for the Galaxy Fold to go from $2k flagship to failed and floppy.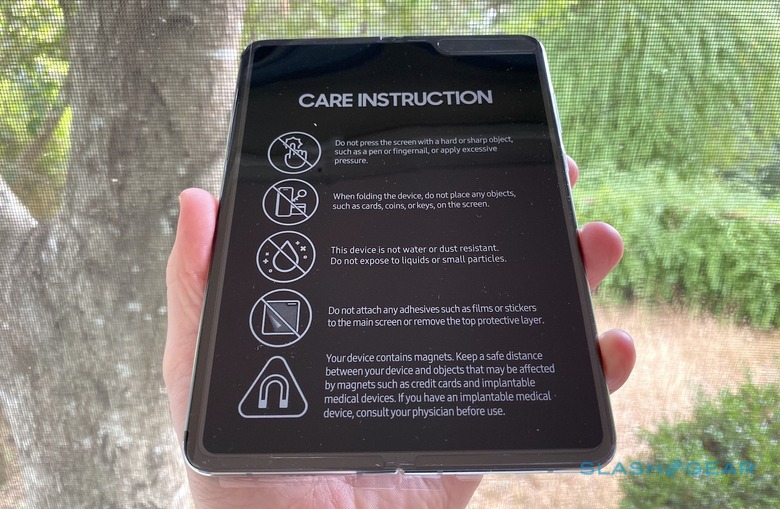 What does that mean for Galaxy Fold owners? The outlook is mixed, frankly. Samsung is running a Screen Replacement Offer, which allows for a single out-of-warranty replacement of the OLED for $149 (plus tax). However, that's only valid for the first year of purchase, and assuming you buy the Galaxy Fold before the end of 2019.
Given the typical 2-3 year life of a smartphone before replacement, it's possible that around 120,000 folds would be good enough for most people. After all, the sort of early-adopters keen to spend two grand on a Galaxy Fold will probably be first in line for whatever next tech must-have arrives, and we're unlikely to need to wait five years for that to happen.
All the same, it's clear that – with questions around longevity and a long list of precautions just for day-to-day use of the Galaxy Fold – flexible OLED is in its infancy. That could well mean the days of mainstream folding phones and tablets are still a little further out than some companies might prefer.
Update: It's been pointed out that Samsung's stress test for the Galaxy Fold operates differently to that of the machine SquareTrade developed; you can see the former in action in the video below. There's certainly a question around what sort of treatment a modern smartphone could rightly be expected to withstand, and how much kid-glove treatment a phone might realistically warrant. On the one hand, you could make the argument that anybody with a $2,000 device is going to take extra care of it; on the other, you could equally say that someone spending that sort of money on a flagship shouldn't have to worry about that. Either way, our stance that the mainstream isn't ready for flexible OLED, and vice-versa, still stands.
A Samsung spokesperson declined to comment on the new stress test.