Samsung subtweets Galaxy Fold naysayers with stress test video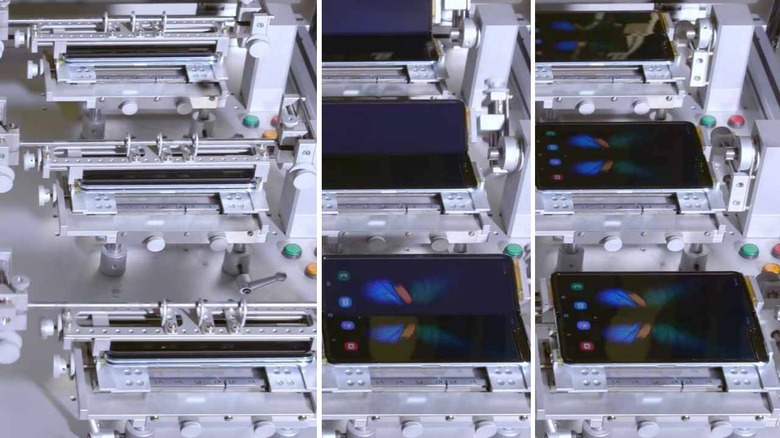 The folks responsible for selling the world on the Galaxy Fold foldable display smartphone have a job to do. They've got to make sure that the device does its job – but they've got to make sure the world doesn't perceive the device as anything but the highest of quality hardware. This is important because, as it is with any new sort of physical device with technology hereto unseen, there's skepticism from buyers. And with at least one leaked video of an apparent bend mark in the display out in the wild, Samsung needed to act fast.
When I say Samsung "subtweets", I mean they've not responded directly to the original leaked video, photos, or the recent AMA about "the crease" in the Galaxy Fold. Instead, the company's released a professionally-produced stress test video demonstration with press release-type text. This reminds me of that one time I went to HP to see them folding laptops to test hinges. Over, and over, and over again, ad infinitum.
Samsung describes the test shown in the video as follows. "This test, which examines whether the Galaxy Fold can outlast 200,000 folds and unfolds (or around five years of use, if used 100 times a day), takes a full week to complete." So it's not quite an infinite amount, but it's pretty substantial.
Now they've only to convince the world that the positives far outweigh the costs involved in owning one of these machines. It may be a while before your average everyday non-first-adopter is able to attain a device like this without breaking the bank. According to Samsung itself, the Galaxy Fold will cost around $1,980, dependent on region.
The Galaxy Fold will launch in at least two editions, the first of these coming with LTE connectivity. There'll also be a version with the same 5G connectivity given to the just-launched Galaxy S10 5G, with quite similar or identical processor and modem hardware inside. The Samsung Galaxy Fold will be released in its LTE edition on April 26th, 2019.