Galaxy F foldable phone: A clearer look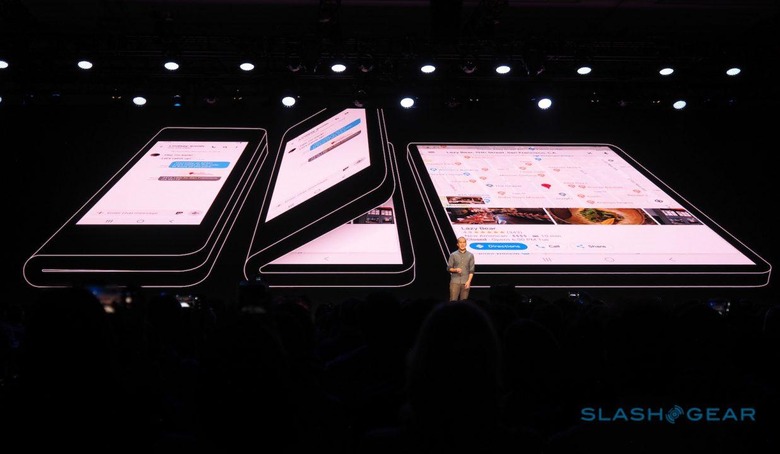 Today we're taking a slightly closer look at the Samsung Galaxy F – assuming that's what Samsung will call its Foldable Phone. This week Samsung spoke very little about the Galaxy S10, their next hero phone, and instead revealed their foldable display tech, and branding, as they began their journey into a strange world of transforming Android devices. When they showed their device to the masses, they did so in the dark – because they didn't want to show everyone their final design. But we've got a slightly closer look today.
Today we're getting a little bit more into the details of Samsung's foldable phone – the first in line for the company's "Infinity Flex" flexible, foldable display tech. In our first look at the device in question, it appeared that we'd be working with a display that was significantly smaller than the body of the phone, before we got to the display inside.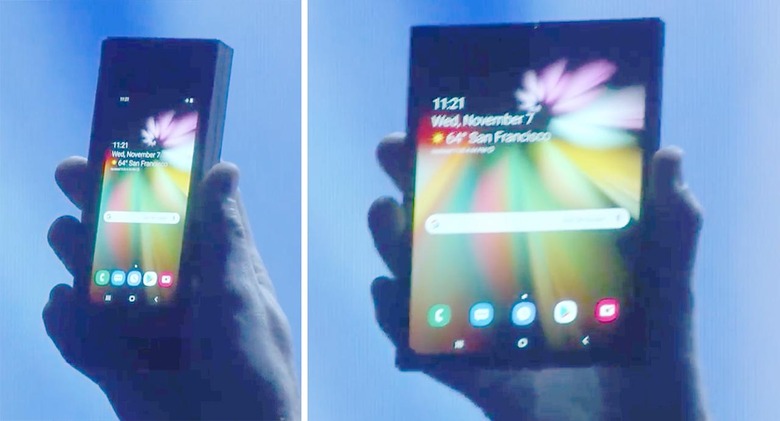 As you see above, it looked (to me) like the exterior display might've just been shortened to match the aspect ratio of a phone already on the market. I assumed this was to match the Galaxy S9 or Note 9, for example.
As Ice Universe suggested on Twitter, this isn't the final device. Nor is it the device at all, really – it's more of a container for the displays than anything. The covering might well be disguising more than just the regular bezels of the smartphone.
This is not a real foldable phone, it is camouflaged to prevent leaks. So you only see a wide bezel. https://t.co/oMew1xM314

— Ice universe (@UniverseIce) November 8, 2018
As you'll see below, the company's B-roll video showed us more of the test device in question. It shows that there is indeed just a tiny display up front, and that there's really not a whole lot of wiggle room up there for extending said display.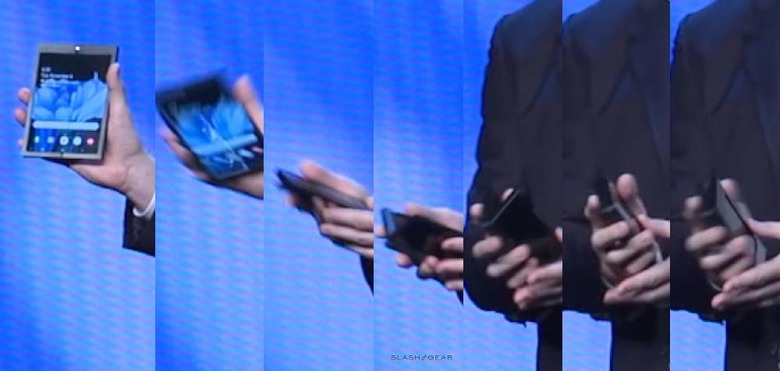 Then today we saw some new info – yet a bit of info that really re-confirms the first image we had of the phone. Here we see, via CNET and CBSI reporter Shara Tibken, that the Samsung foldable phone does indeed have one massive bezel above and below its frontside display.
And here are the @Samsung foldable phone display specs #SDC18 pic.twitter.com/tkGvmqJcdb

— Shara Tibken (@sharatibken) November 7, 2018
Also via Tibken we see that Samsung's getting ready to release this phone, but they're no longer saying exactly when it'll launch. They had enough of that business when they started suggesting we'd see the full device inside 2018 – things change!
Q for @Samsung about foldable phone: what will it cost & when will it come out? Exec says: "It will be in the market when we're ready, probably sometime in the next year. ... Price wise, not yet decided. But will be set to be as appropriate as possible." #SDC18

— Shara Tibken (@sharatibken) November 7, 2018
Now we wait until early 2019 before we get more information on this device. At least, we'll wait for Samsung to bring official information. We'll be keeping our eyes and ears peeled for all sorts of leaks and early data bits from all manner of sources before then. Keep your clicking and/or tapping fingers at the ready!