Samsung Infinity Flex foldable phone revealed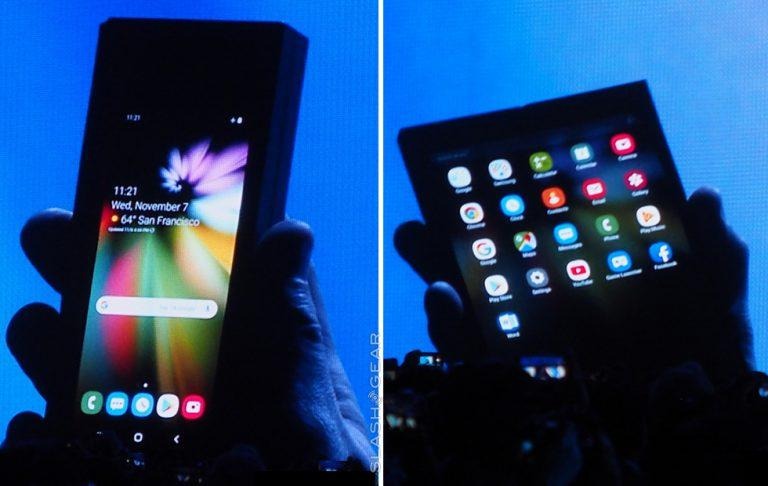 Today with the Samsung Infinity Flex display, Samsung revealed their foldable smartphone. This device has two displays, one on the outside that looks a lot like a standard Galaxy S9 (or thereabouts). The device opens up like a book, if the first display was the cover. Inside is a display that's twice as large as the display up front. Today we're meant to start understanding why this concept became a reality.
Hassan Anjum, Director of Product Marketing stood on stage at the Moscone Center in San Francisco, California, during the Samsung Developer Conference 2018 to speak about the next generation in Samsung smartphone form-factors. "We've turned the industry on its head in the past," said Anjum. "Today we're about to do it again."
Justin Denison, SVP of Mobile Product Marketing for Samsung Mobile, showed the device to developers at the Samsung Developer Conference this week. The device he had in his pocket was covered with a box. A boxy sort of casing for the phone that disguised the design elements – everything save the displays. From the displays, we got a whole lot of information.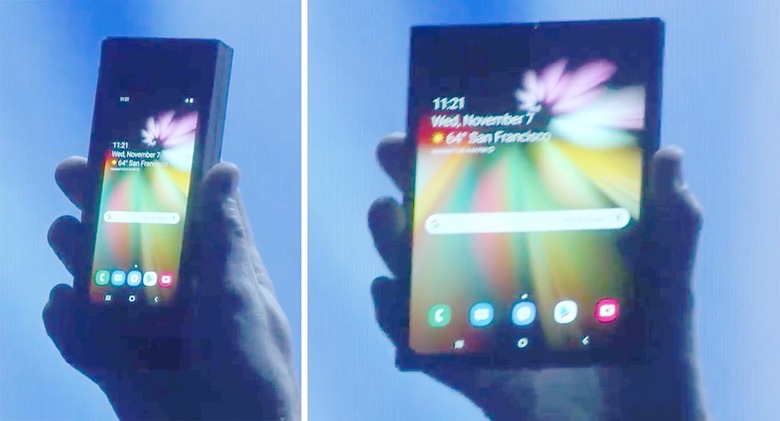 UPDATE: The outside MIGHT BE a whole lot taller that it at first appeared onstage. It would seem that Samsung's demonstration made the frontside display look shorter than it actually was, without a full stretch. The display we're looking at here is similar to the dimensions of a Galaxy S9 – the actual display space is far, far taller.
Samsung Galaxy Foldable Device Specs:
• Front Display: 4-inches
• Internal Display: 7.3-inches
• Display Tech Branding: Samsung Infinity Flex display
• Special Abilities: Folding display, support for multiple apps running at once in one window (called Multi Active Window by Samsung)
It's inside the device – when opened – that the magic will really happen. The external display seems, for now, to be more of a quick-glance sort of situation. While we see the full Android 9 Pie software UI here now, this isn't necessarily what we'll see in the final design.
Inside, Samsung has a system they call "Multi Active Window." This is new to Samsung, and new to Android. It extends the Android experience to multiple spaces at once. We'll likely see more of this action once Samsung gets closer to manufacturing time.
Denison suggested that the company was ready to begin manufacturing their first foldable display smartphone this year. That means they'll almost certainly have the phone ready for release within the first two months of 2019. It would not be a shock to see Samsung hold an event within a matter of weeks after their February 24th, 2019 event in Barcelona.
It's a phone... It's a tablet... It's a phone that unfolds into a tablet! #SDC18 pic.twitter.com/FgwpJPjqTn

— SAMSUNG DEVELOPERS (@samsung_dev) November 7, 2018
NOTE: The phone wasn't named today – not exactly. Instead we were treated to the name of the display technology branding Samsung's chosen for the foldable display. That's the Samsung Infinity Flex display. This display will appear on a Samsung smartphone in the first quarter of 2019, barring some natural disaster that stops all production before then – we'll see!
Google also revealed a tiny bit of information on their work with Samsung on the user interface for this foldable device. They call this new sort of device a "foldable" and they've got some ideas for how it'll work.
NOTE: Images in the gallery immediately above this text do NOT show the Samsung foldable device. This instead is a set of images made by Google to show some possibilities in a concept foldable device. This is more UI – and we'll see a whole lot more, soon!