Galaxy Buds+ leaked as AirPods' nightmare at $149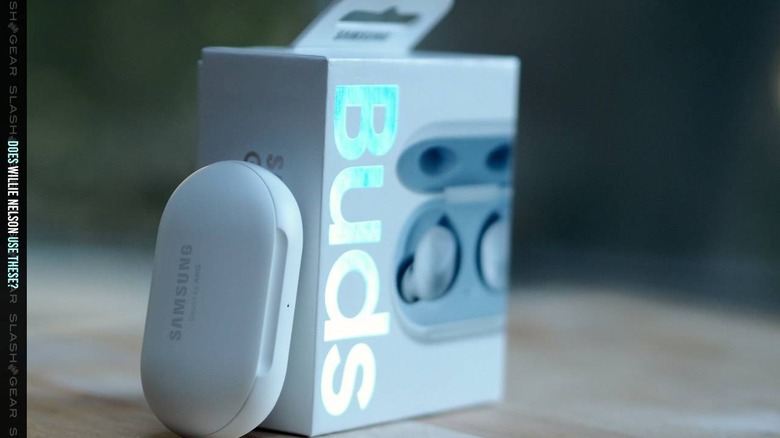 Today we're taking a peek at the latest leak of the Samsung Galaxy Buds+, a pair of wireless earphones (or earbuds, if you prefer) that challenge Apple AirPods in the spring of 2020. The Samsung offensive with their second-generation Galaxy Buds could be considered an extension of the family. The features of the Samsung Galaxy Buds+ are extremely similar to those of the original Samsung Galaxy Buds (no + mark), but they cost just a TINY bit more for a decent boost to battery power – and an extra microphone.
You've got the Samsung Galaxy Buds on the market already here in early February of 2020. These are the most high-profile, visible, big-brand wireless earbuds on the market playing against the Apple AirPods. Galaxy Buds cost $129, have 6 hours of playtime (or 13 hours with the battery power provided by the recharging case), and they work with Bluetooth 5. How's that compare to AirPods, AirPods with Wireless Charging Case, or AirPods Pro?
• AirPods Pro cost $250
• AirPods with Wireless Charging Case cost $200
• AirPods with (non-wireless) Charging Case cost $160
• Galaxy Buds+ with Wireless Charging Case cost $150*
• Galaxy Buds with Wireless Charging Case cost $130**
*The Samsung Galaxy Buds+ price and details are not yet confirmed as of press time for this article. We'll know these details for certain on February 11, 2020, at Samsung's big event. We'll return to this article at that time to make sure the rumors we've gathered for info here were as market-ready accurate as possible. Until then, note that we're working with leaks like this little drop from early 2020.
**Also note: I've rounded up all the prices by $1 (one dollar) because they all ended in 9 – now they're easier to read and analyze. The Galaxy Buds and Galaxy Buds+ work with wireless charging cases right out the gate, there is no non-wireless charging case with a pair of Samsung Galaxy Buds wireless earbuds.
The big difference between devices for battery time is in quotes for listening time: AirPods Pro 4.5-hours, AirPods: 5-hours, Galaxy Buds: 6-hours, Galaxy Buds+: 11-hours.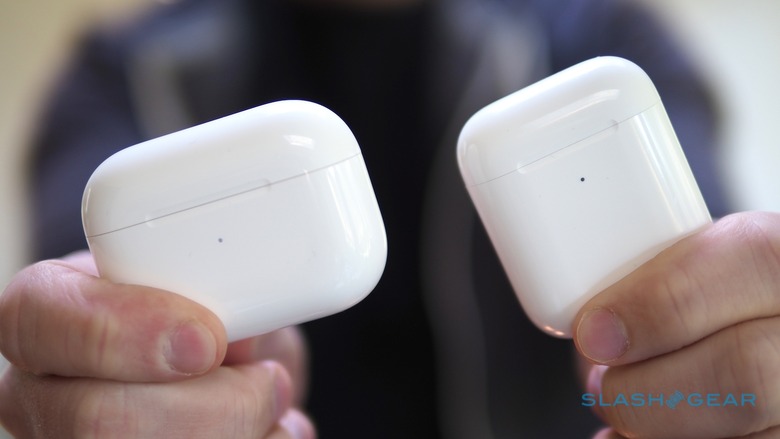 The amount of battery life each different charging case can carry is also worthy of some consideration. Each device has a quote that includes time given by the battery in the earbuds PLUS the extra provided by the charging case. Galaxy Buds: 13-hours, Galaxy Buds+: 22-hours, AirPods/AirPods Pro: "More than 24 hours of listening time (with Charging Case)." That's regardless of non-wireless or wireless case for the AirPods, according to Apple.
The difference between Galaxy Buds and Galaxy Buds+ is mainly in the aforementioned battery life, but also in the addition of "multi-device connectivity" in the Buds+, and in 2 microphones on the exterior of the Buds+ instead of just 1 (in the Buds). That's mostly helpful for accuracy in earbud-based phone calls and smart assistant commands.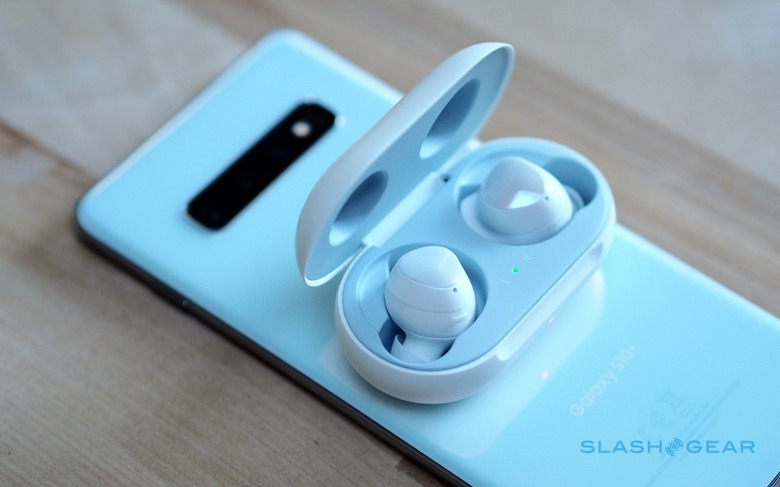 If you're an iPhone user, it would appear that you'll get all the features listed by Samsung for the Galaxy Buds, regardless of Buds or Buds+. If you're an Android user, I suggest you take a peek at our AirPods Pro Review to get a handle on the differences in feature availability for your device.
Two major things to consider for the AirPods Pro: Active Noise Cancellation and Adaptive EQ. Those do not appear in any other buds in this article.
The lesser of the two AirPods models are not rated for water resistance, while the AirPods Pro are IPX4 rated resistant to water and sweat: "Resistant to water splashes from any direction." Both the Galaxy Buds and Buds+ are rated IPX2: "Resistant to that hits the product at a 15° angle or less."
Could the Samsung Galaxy Buds+ create chaos for Apple's AirPods empire? Or do these earbuds just provide a convenient block for Samsung Galaxy smartphone users that'd otherwise strongly consider giving Apple a couple hundred dollars for a pair of pods?