Galaxy A50s and A30s revealed as Samsung's release cycles quicken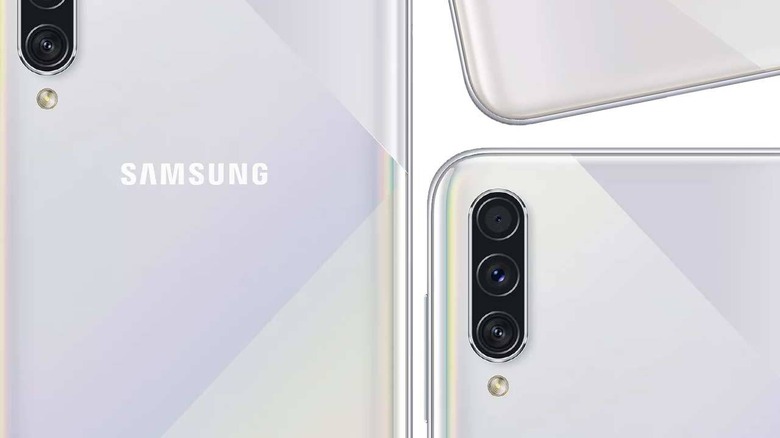 The Samsung Galaxy A50s and A30s were announced today as 's' upgrades to devices in the Galaxy A series: A50 and A30. These devices were released with surprisingly few details on pricing or release – almost as if Samsung's push for the popularity of this lineup is more about the feeling than it is about the nitty gritty bits like... how they can be purchased.
The Galaxy A10s was just announced on August 12, 2019 – now we get both the A30s and the A50s. Each of these devices has a set of specifications and looks that seem to be aiming to battle the highest-end smartphones on the market. But they're midrange phones. They're made for people who don't want to spend massive amounts of cash on a phone – but DO want to feel like they've got their finger on the pulse of modern technological innovation.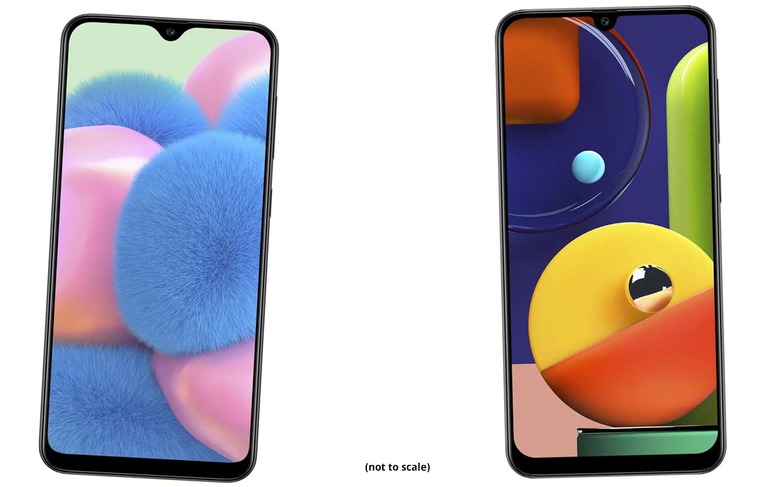 The new A50s and A30s models aim to fit the goals announced by DJ Koh, President and CEO, IT & Mobile Communications Division, Samsung Electronics, back in September of 2018. In a release from Samsung on July 1, 2019, Koh said "last September, I announced a shift in our mobile strategy. We saw a whole new generation of people using smartphones at a younger age and embracing new innovations sooner."
This was part of Samsung's push to bring brand new features to lesser smartphones before they were released on the top-tier, most-expensive, AAA hero phones like Galaxy S and Galaxy Note. With the Galaxy A series, this means not only releasing Galaxy A30 and A50 in February, but releasing their "s" iterations in the second half of the year.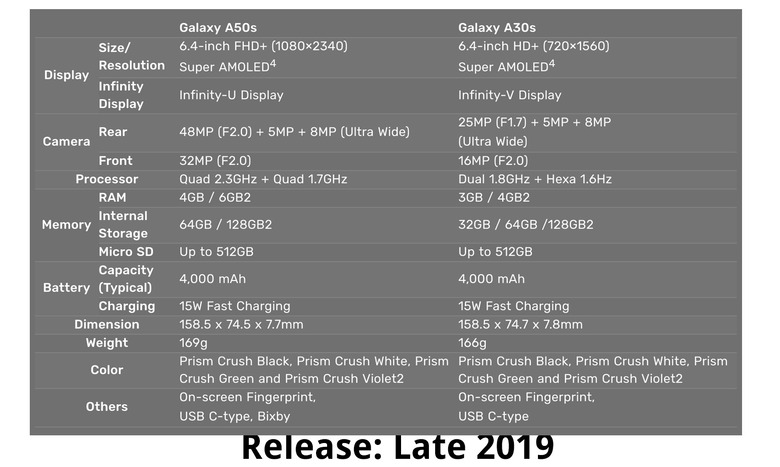 Above you'll see specifications for the new Galaxy A30s and A50s that'll be released very soon (second half of 2019). Below you'll see specifications for the A30 and A50 released earlier this year (Spring of 2019).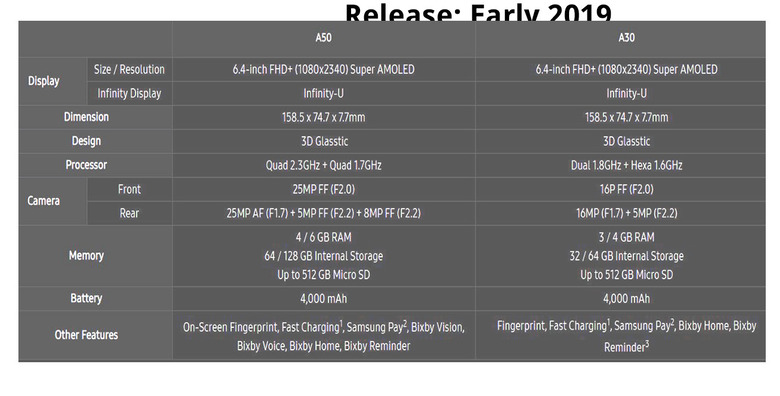 The A30s now features an on-screen fingerprint scanner and a new set of cameras. The A50s is like the A30s but with bigger and better features in almost every way. These phones will be available in four new colors, including Prism Crush Black, Prism Crush White, Prism Crush Green, and Prism Crush Violet. Once we know the full details of the releases of these devices, we'll let you know ASAP!