Full Fujifilm X-Pro3 Price, Release Date Range, Specs Official At Last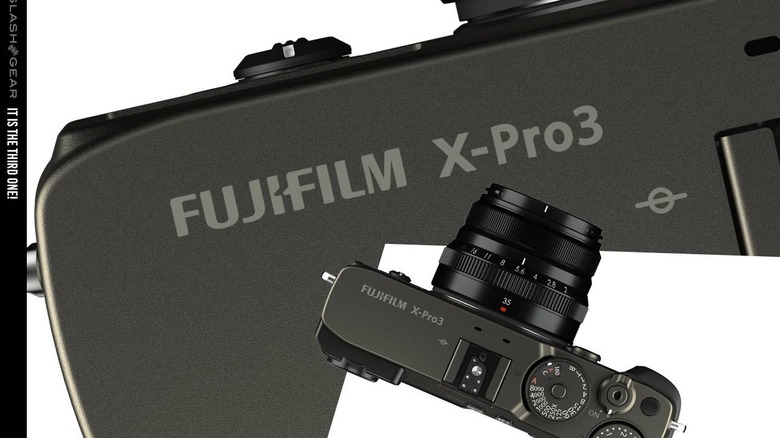 The newest Fujifilm X-Pro series interchangeable lens camera was revealed in full today. The Fujifilm X-Pro3 mirrorless digital camera is the successor to the X-Pro2, released all the way back in March of 2016. This newest model has a collection of odd and/or powerful features that make it a unique blend of discrete and unique.
This camera was previously revealed in some detail at the Fujifilm X Summit in Tokyo. That was just this September – which means there wasn't a lot of time between then and now for any changes. So anything you read there is pretty much solid for what you'll get now, for the product that'll be released inside the next couple of months.
This device will roll with 26.1-million pixels (effective pixels), aka 26.1MP (megapixels) with its X-Trans CMOS 4 image sensor. This image sensor is 23.5mm×15.6mm (APS-C) and has a primary color filter. There's a new combination of optical viewfinder (OVF) and OLED electronic viewfinder (EVF) here, as well as a "hidden" touchscreen. That's a "hidden" 180-degree tilt and touchscreen display. You'll find a full list of specifications for the Fujifilm X-Pro3 in the gallery below.
This camera works with the standard Fujifilm X Mount interchangeable lens system. The Fujifilm X-Pro1 was the company's first interchangeable lens camera. That first X-Pro was released in February of 2012. In March of 2016, the Fujifilm X-Pro2 was released. Here in the fourth quarter of 2019, the Fujifilm X-Pro3 will have a release date inside November or December of 2019. Fujifilm's specific word is "X-Pro3 is expected to go on sale in late Fall 2019."
The price of the Fujifilm X-Pro3 is dependent on the exterior material the user does so choose. There's a standard model and a pair of alternative models with "Duratect surface hardening technology" (DR). The standard model in Black will cost approximately $1800 USD. The DR Black or DR Silver will cost approximately $2000 USD.