Fujitsu roadmap reveals Transformer Prime rival, more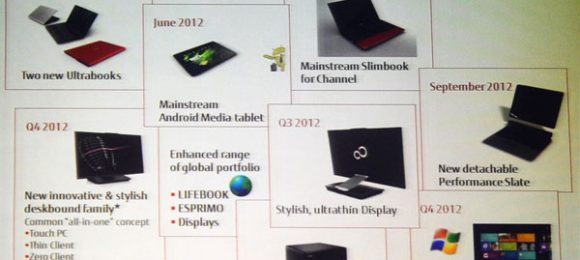 Fujitsu's computing plans for 2012 have been revealed in a new roadmap, with a performance tablet with detachable keyboard due in September, several ultrabooks, and an Android slate in June. Two ultrabooks are in the pipeline for May, the roadmap Fujitsu showed to imidoresc confirms, followed the next month with a "mainstream Android media tablet" that could be the Fujitsu Arrows Tab we played with back at CES. However, it's products later in the year that have us particularly curious.
June 2012 brings a "mainstream slimbook", but it's the "detachable performance slate" in September 2012 that is really interesting. Fujitsu is apparently following ASUS and others down the road of pairing a tablet with a removable keyboard section, and while we're guessing the final design won't be as interesting as the LIFEBOOK2013 concept, it's still a form-factor we're very keen on.
Fujitsu's diagram shows a device similar to the Lenovo IdeaPad S2 10, though it's entirely possible the company has merely used a generic image rather than given any hint of what the real product will look like. It's possible the tablet could use Windows 8 rather than Android.
There's also a new family of desk PCs in Q4, at the same time as the Windows 8 release, with Fujitsu planning an all-in-one touchscreen PC in addition to thin/zero clients for the business market. They'll be preceded by an ultrathin LCD display in Q3, one of a number of accessories including, the roadmap seems to suggest, a multi-drive NAS.
[via Notebook Italia]