Fujitsu roadmap leaks Windows 8 and Android tablets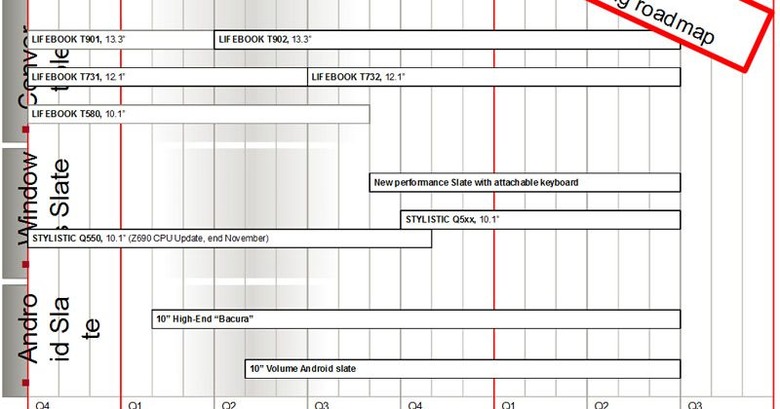 It's once again time to fire someone in the planning room as another "confidential" roadmap has been leaked by a manufacturer – this time by Fujuitsu, this map showing off tablets galore. This map shows several new items, in fact, with two Android Slates coming up along with two Windows 8 Slates on the docket as well.
This roadmap shows Fujitsu dipping in to both the Android and Windows 8 worlds with four new products, each of them coming inside 2012. The first to be appearing is what this map calls a 10-inch High-End "Bacura". This device will be running Android and would appear at first to be lining up with what we know as the Sylistic tablet we caught a glimpse of earlier this year. Lo and behold on the other hand, the last device on this map is also coming with the name "STYLISTIC" this time with the name Q5xx tacked on its 10.1-inch self and more importantly including Windows 8 instead of Android.
Next there's another 10-inch Volume Android slate which we've not seen nor heard of quite yet, this slate coming in the second quarter of 2012. Finally there's what Fujitsu calls a "New performance Slate with attachable keyboard" set for the third quarter of 2012 running Windows 8 as well.
In addition to these lovely additions to the Fujitsu family coming this year, several Windows 7 "convertable tablets" will be popping up in the coming months. The first is a Lifebook T902 with a 13.3-inch display, that second is a Lifebook T732 with 12.1-inch display, both of these device being pushed with 3rd Generation Intel Core Ivy Bridge processors and will be guaranteed an upgrade to Windows 8. Sound like a bunch of winners to you? We'll see soon!
Thanks for the tip, Marco!
[via Notebook Italia]