Fujitsu LifeBook U810 review roundup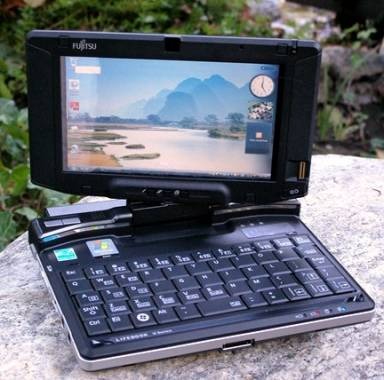 If you've been even just a little tempted by Fujitsu's indecently-compact LifeBook U810(the US version of the U1010) then you'll be pleased to know that there're a growing number of reviews for the tiny convertible.  Obviously when you're playing with something that measures close to 6-inches square the usual rules about "no fat fingers" apply, but if you've got the digits for it then seemingly it's a good travel companion.Check out after the cut for a video review of the U810 plus commentary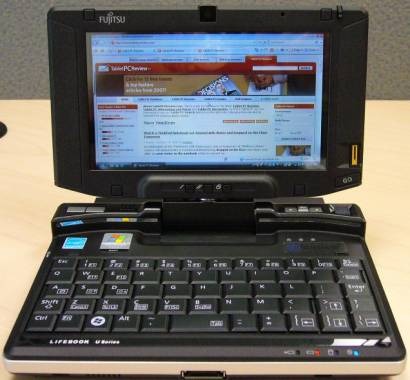 So what's good?  Well, build quality gets a consistent thumbs-up, with a solid chassis (let down only by a little keyboard flex) and a surprisingly sturdy hinge.  In fact reviewers are forever being amazed at the tiny laptop's sheer size:
"There are no pictures that can truly show off what a marvelous piece of hardware this is. I have seen all the galleries and I have seen countless videos, but nothing compares to actually holding one in the palm of your hand" Jeff Christiana
Meanwhile the speaker is surprisingly powerful and clear, and according to Tablet PC Review the battery managed 3hrs 50 in "high performance" mode and 5hrs in "power saver" mode.  While it lacks an official indoor/outdoor screen, Linda Epstein found that as long as it's out of direct sunlight you can still happily read it.  In fact screen quality is universally praised, although touch sensitivity requires a fair amount of prodding to get it to recognise each selection.
And so we move on to the negatives, and the most obvious of those is the relatively anaemic specs for running Vista:
"800 MHz CPU, 1 gigabyte of RAM and Windows Vista makes for a slow performing computer. Fujitsu does include the Windows XP Tablet PC recovery CD however, if you wish to downgrade" Steve Hoffman, Active Ink
To be fair, many similar ultra-portables have trouble running memory-hungry Vista, but the U810's apparent limit of 1GB of RAM will be a frustration when it comes to upgrading.  Even with XP Tablet Edition, though, you'd be stuck with the LifeBook's vectoring problem, where any contact of palm to screen during writing causes the "ink" to bleed across the screen.  Just a single USB port is also pretty spartan.
Overall, then, it's a fair mixed bag.  If portability means more to you than anything else, and you're desperate for a full (albeit small) keyboard and a decent range of wireless connectivity (the U810 has WiFi in a/b/g flavours as well as Bluetooth 2.0) then the LifeBook could have a place in your bag.  If you can sacrifice a little space, however, there may be bigger ultraportables that require less of a compromise.