Fujitsu Lifebook LTE ultrabook revealed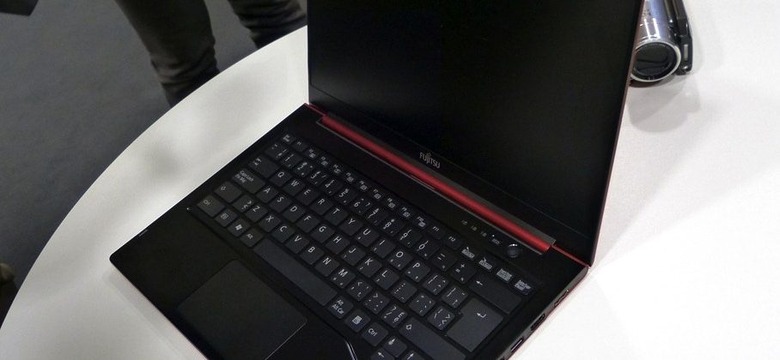 Fujitsu has previewed its upcoming ultrabook, an unnamed Lifebook model measuring a scant 16mm thick despite toting a 14-inch edge-to-edge display and LTE/3G integrated connectivity. The Fujitsu ultrabook runs Intel's Ivy Bridge processors, Ultrabook News reports, and is expected to weigh under 1.4kg with its full magnesium chassis.
There's also a docking connector of some sort on the bottom, though at this stage it's unclear if Fujitsu has a multimedia dock in mind – which could perhaps add extra ports and even an optical drive – or a battery slice for extending runtimes. Connectivity includes two USB 3.0 and one USB 2.0, along with an HDMI, SD card reader, headphone jack and a custom ethernet port.
The keyboard isn't functional on this prototype, so it's impossible to know how well the key travel works given the shallow base of the ultrabook. In fact, the whole machine doesn't turn on; Fujitsu won't have working models until closer to launch.
Fujitsu's entrance into the ultrabook segment was previewed last month, when the company revealed its intentions to produce at least two models in a 2012 roadmap. They're tipped to go on sale in May, according to that roadmap, though Fujitsu is saying "early summer" at CeBIT 2012 this week.