Fujitsu IS12T Mango phone Available for Pre-Order

The folks at the Au KDDI store in Nishi-Kasai in Tokyo Japan have just tweeted something that'll get your Windows Phone Mango ears ringin', that being that they're going to have the Fujitsu IS12T as early as this Thursday, August 25th, 2011. Windows Phone 7.5 Mango has been juicing up the Microsoft-loving public for some weeks now, especially after a slightly early build leaked this past week. Last we'd heard, this device was already supposed to be released to the public by this time – that did not happen, but this new release certainly appears to be legit!
This Fujitsu Toshiba masterpiece going by the name of IS12T comes in a couple of fantastically loud colors or your choice of black, and it runs Windows Phone 7.5 Mango. This is the cellular partnerships' first Windows Phone ever AND it appears very much to be the first device to be released with Mango out of the box. This device has a massive 13.2-megapixel camera, 32GB of internal storage, and is both waterproof and dust-resistant! What more could you want?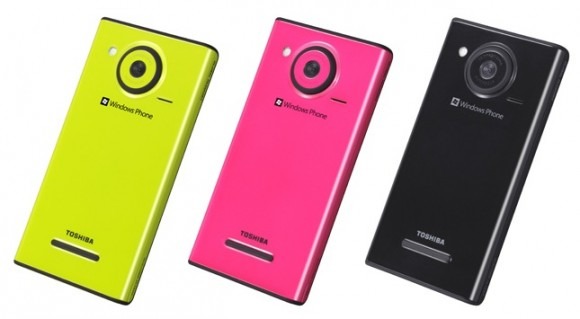 The release information coming straight from Twitter translates horribly with Google translate thusly – exciting!
Decided finally released information ★ IS12T ~ Windows Phone ~ latest model released ★! ! ♪ This title will be released in stores August 25, we accepted from today preordered! You may want to come, ♪ I please buy
KDDI Announces IS12T in June
You may want to come quickly because these phones are sure to sell off the shelf! Now we can only continue to pray to the Microsoft / Toshiba / Fujitsu gods that this device will somehow miraculously be released in the USA as well. Furthermore, a fellow by the name of Tezawaly from Nanapho.jp has snapped a photo I'm sure you're gonna love to peek at: a whole three shelves full of IS12T handsets sitting ready to be held and tossed around! Unfortunately they're all display units, of course: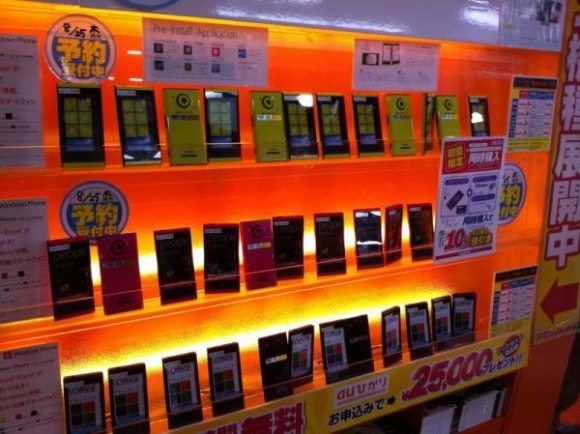 [via WMPowerUser]