Fujitsu Arrows LTE Tab Android slate aims directly at hardcore market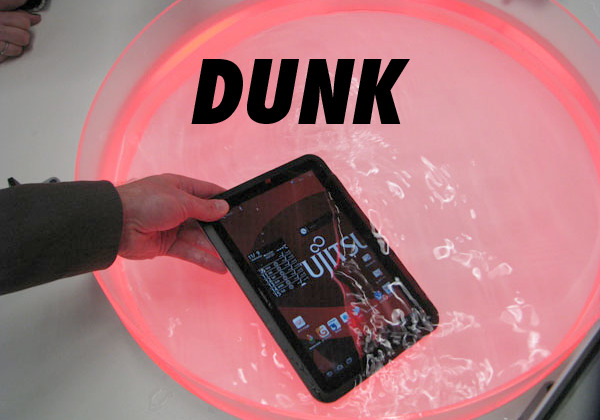 This week we've already seen one tablet that's set to be nearly indestructible AND able to run Android in a single bound, now here's another – this one goes by the name Fujitsu Arrows LTE Tab and is able to be submerged under water completely, not just sprayed a bit in the face. It's a 10.1-inch display having 1280 x 800 pixel resolution toting Android 3.2 Honeycomb tablet at the moment, and inside you'll find Tegra! Not Tegra 3, unfortunately, that honor is thus far reserved for the ASUS amongst us. UPDATE: There's been some confusion about the chip inside this device – though the video below says NVIDIA, inside this tablet is actually the lovely Texas Instruments OMAP4430, seen in quite a few excellent Androids as of late – take note!
Also inside this tablet is 1GB of RAM, 16GB internal storage, and a microSD card slot able to utilize up to a 32GB card. This device has a microUSB port, a microHDMI port, and of course is able to be dunked. You'll see a video of this happening below, but until then, note that this tablet is thus far only set for Japan. What you'll see for a USA release instead of a video like this is BRIGHT LIGHTS and flashing WORDS and all kinds of FIRE. Trust me on that one. Have a peek at this hands-on video:
The processor on this device is the same dual-core 1Ghz NVIDIA Tegra 2, a mightily well working chip in and of itself. Note that essentially every dual-core tablet with Android that came out inside 2011 had this same processor, including the hero device for Google's Honeycomb platform, the Motorola XOOM. AGAIN UPDATE: this tablet has the Texas Instruments OMAP4430 dual-core processor, not NVIDIA's Tegra 2. This information comes straight from Texas Instruments, while the incorrect information can be seen in the video below.
This of course doesn't begin to add up against the other tablet we've seen this week, the Panasonic Toughpad A1 which appears very much to be impervious to most anything, not just H2O.
[via NotebookItalia]