Fujisoft Palro Atom-Based Hobby Robot [Video]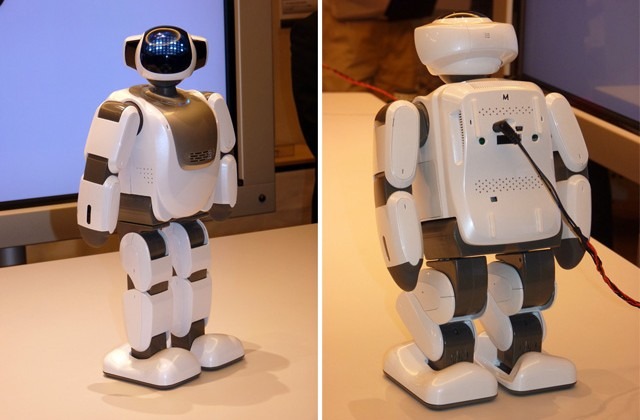 Fujisoft's Palro isn't the first robot we've seen packing an Intel Atom nettop as a brain, but he's a little more handsome than Vstone's rather industrial-looking Robovie-PC.  Palro packs an Atom N270 1.6GHz processor, WiFi b/g/n and a 3-megapixel camera, but more interesting are the five microphones used for voice recognition.
Video demo after the cut
Elsewhere there's a gyro-sensor, a 3-axis accelerometer, eight feet-mounted pressure sensors and a head-mounted distance sensor.  Rounding out the hardware specs there's 1GB of RAM and 4GB of flash storage, along with a USB port, a 2,800 mAh Li-Ion battery and a copy of Ubuntu.
Sales of the Palro robot will kick off on March 15th to research and educational buyers, but Fujisoft are promising a more general release after that so that home hobbyists will be able to pick up their own.  You'll need a reasonably healthy bank account, though; expect to pay the equivalent of around $3,300.
[via CrunchGear]