Vstone unveils Robovie-PC robot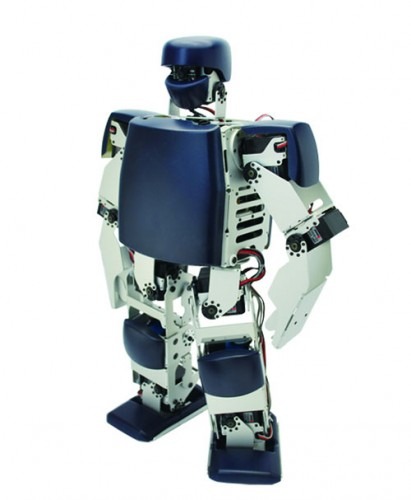 We have talked about some of the cool robots that Vstone produced before, like the Robovi-nano. Vstone has pulled the wraps off another robot, this time with the heart of a netbook computer crammed inside the articulated frame. The bot is called the Robovie-PC.
Inside the robot body is an Intel Atom Z530 1.6GHz mainboard that sports the same features of a netbook or nettop that we expect. The robot is programmable and stands on two legs. Other features of the bot include Internet connectivity, a camera sensor and other sensors can be added as well.
The tiny little mainboard inside the robot measures 100mm x 72mm and has two USB connectors apparently inside its mouth for a mouse and keyboard. The little bot can even run Windows XP, vista, and Linux operating systems. The robot is very maneuverable with three controls for the leg pitch, two for the leg roll, and one for yaw. The computer components are protected by a polyurethane foam sponge in case the bot falls. The camera is a 1.3MP CMOS unit. The bot can be purchased for 399,000 yen or about $4,400 in American money.