Fujifilm X-Pro1 official: 16MP interchangeable lens rangefinder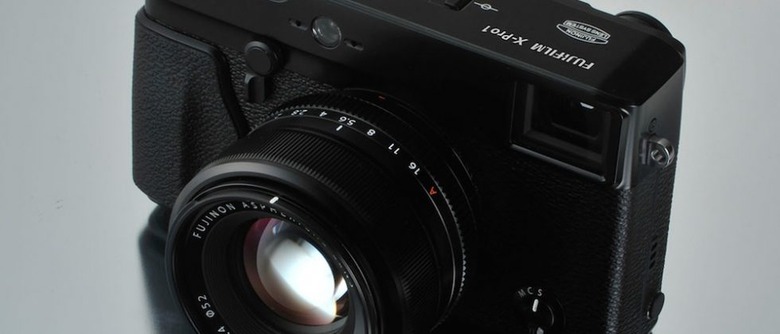 Fujifilm has officially launched the X-Pro1, a beautifully retro camera pairing rangefinder styling with a 16-megapixel APS-C sensor and interchangeable lenses. Revealed at CES this morning – though leaked last week - the X-Pro1 is a litany of Fujifilm goodness: the company's EXR processor paired with its X-Trans sensor, and a second-gen version of the hybrid viewfinder that so impressed on the X100.
There are plenty of manual controls on offer, with exposure settings delivered in 1/3-step increments and "precision milled" dials and knobs. The exposure compensation dial is recessed so as not to be nudged accidentally, as is the  shutter speed dial lock mechanism, and the magnesium alloy chassis is sandwiched between die-cast aluminum alloy top and base plates. The X-Mount for the interchangeable lenses puts the glass as close to the sensor as possible, with high resolution promised all the way to the edges of the frame thanks to minimal back focus distance.
As for the hybrid viewfinder, that can be switched between a traditional optical viewfinder for times when you want minimal lag, or an electronic viewfinder with overlaid information on exposure, focus, white balance, depth-of-field and other information. Magnification automatically adjusts to suit the lens.
Fujifilm will offer the X-Pro1 with a choice of three Fujinon lenses, a 18mm (27mm equivalent) f/2.0, a 35mm (53mm equivalent) f/1.4 and a 60mm (90mm equivalent) f/2.4. Each has molded aperture diaphragm blades, curved for a circular image no matter the aperture setting. There's also a Hand Grip, Shoe Mount Flash EF-X20 (with auto and manual modes) and a leather case, along with a set of protector filters.
Final pricing won't be announced until toward the end of January, however, with the X-Pro1 set to go on sale next month.