Fujifilm announces X-T10 with new AF system, high speed EVF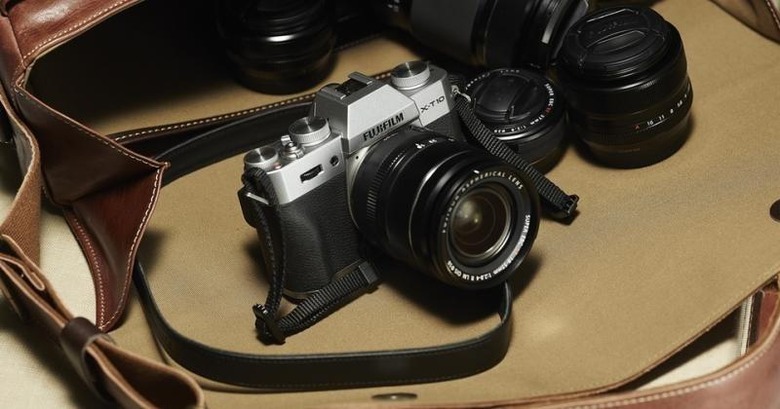 As expected, Fujifilm has finally revealed the latest member in its long line of X-series interchangeable lens cameras. And as expected, the new X-T10 is pretty much a minor upgrade from last year's X-T1. That said, if you're a digital photography enthusiast who's still in the market for a lightweight companion, Fujifilm wants you to direct your gaze to the X-T10 host of features, which include a new 77-point AF system and an electronic real time view finder with an almost unnoticeable small 0.005 second lag.
The new auto focus system that Fujifilm boasts about in the X-T10 combines the standard 49 point AF mode for precision focusing with a new 77 point area for tracking fast moving objects in new Zone and Wide/Tracking modes. If those features sound familiar, it's because is the very same"new AF system" that Fujifilm is bringing to the older X-T1 via a firmware upgrade. On the one hand, it will be reassuring to X-T1 owners that they won't be missing out on at least this feature. On the other than, it makes the X-T10 less unique in the process.
Actually, the X-T10 does use the same APS-C 16.3 megapixel X-Trans CMOS II sensor found on the X-T1, making it even less of an upgrade. That, of course, doesn't exactly make it bad, just not new. It affords the X-T10 the ability to more accurately filter out fake colors. It also makes it possible for the camera to shoot Full HD videos even in the very smooth 60 fps rates. The electronic real time view finder is of particular interest. It is capable of a magnification of 0.62x. And while there is some lag, at 0.005 seconds it will probably be barely felt. Composed of a 2.36 million dot organic EL display, the view finder's information automatically orients itself depending on the vertical or horizontal orientation of the camera itself, thanks to a built-in eye sensor.
It might be hard to tell the X-T1 and the X-T10 apart but there are still some tell tale differences. The design cues are slightly different, with the X-T10 bearing a less pronounced right side grip. But the most telling distinction, however, is the built-in flash that comes with the camera. This "Super Intelligent" flash is claimed to automatically adjust its intensity based on the scene type chosen. In that regard, there is an Auto Mode Switch that will let users choose Advanced SR Auto Mode, leaving it up to the camera to choose the best settings for a particular scene.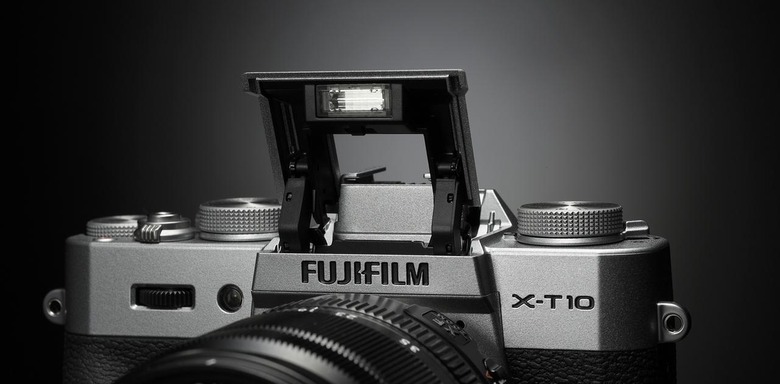 Despite more than a year apart, the Fujifilm X-T10 looks like a small update to the X-T1, which probably bodes well for owners of the older camera. Taken by itself, however, the newer X series interchangeable lens shooter can definitely hold it's head up high against the competition. All that's left, then, is for Fujifilm to release availability and pricing details.
SOURCE: Fujifilm