Fugoo Bluetooth Speakers Pack Siri And Google Now Support: Hands-On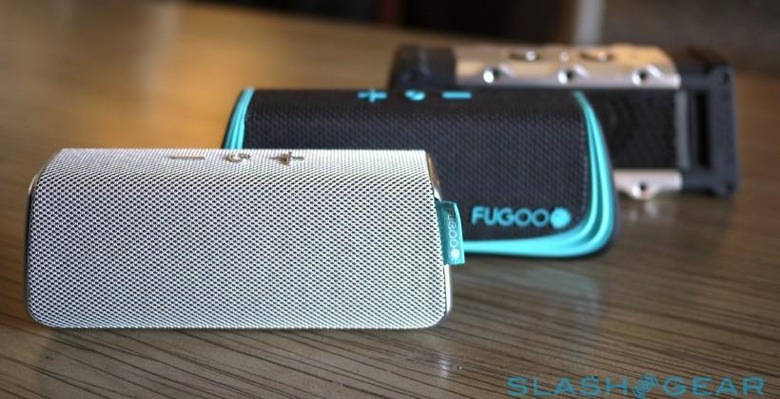 The world is not short of Bluetooth speakers, but Fugoo thinks there's room for at least one more brand: one that actually promises great audio quality as well as some Siri and Google Now magic thrown in too. We know, you've heard that before, but for once the hype might have some reality behind it; we caught up with Fugoo ahead of its CES 2014 launch to test the speakers out up against some of their better-known competition, coming away both surprised and impressed. Read on for all the details.
Like Jawbone's JAMBOX, the Beats Pill, and various other portable Bluetooth speakers, Fugoo has adopted the typical "long, squat block" design. Fugoo will have three models at launch, dubbed Style, Sport, and Tough; the central component of each speaker is the same, slotting into different housings – Fugoo calls it "Core + Jacket" – each with different functionality. That interchangeability gives the opportunity to change styling or make the speaker more rugged, with Fugoo promising more jackets later on in 2014.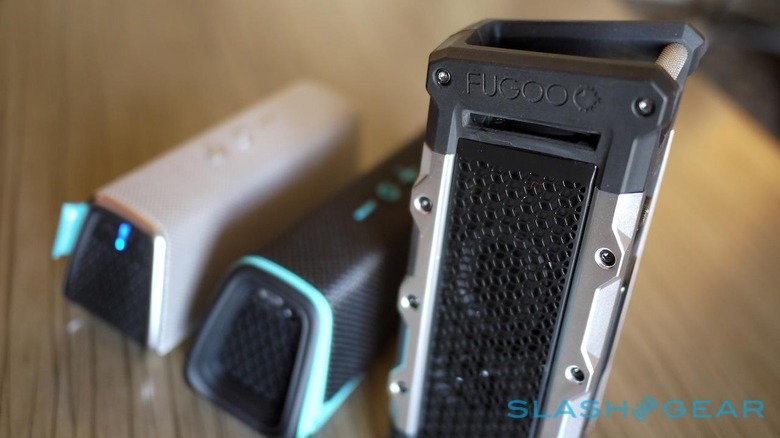 The core has two tweeters, two mid/woofers, and two passive radiators, with the four active drivers spread around all four sides of the box. They're also tilted up, slightly – Fugoo CEO Gary Elsasser told us that's because most people use their Bluetooth speaker on a desk or table that's lower than them, so facing the drivers up means they fire toward where your ears most likely are – and use automatic EQ to adjust the highs, mids, and bass.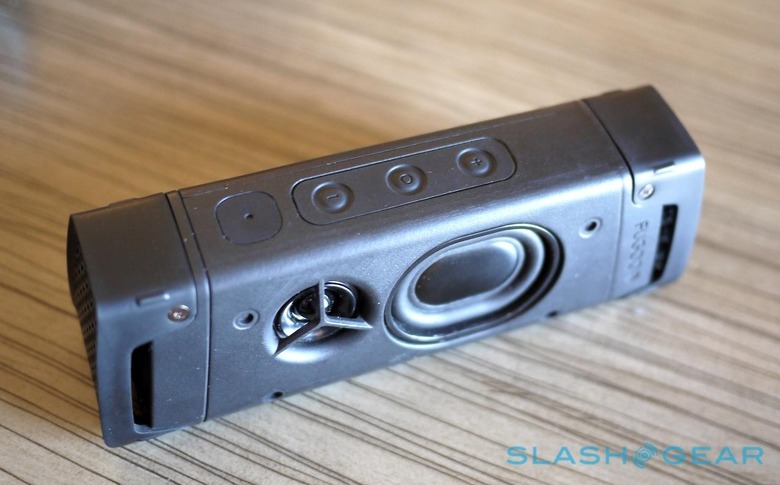 That might sound like hyperbole, but it ends up making a real, audible difference in use. We auditioned the Fugoo speakers next to their better-known rivals, and it clearly outperformed them. Streaming from an iPod touch, music sounded fuller and richer, with stronger bass and broader mids, while the high-end was balanced and clear. Turn the Fugoo speaker around, meanwhile, and there was no discernible reduction in volume or quality; in contrast, sit even offside from other Bluetooth speakers – even Bose's expensive model – and the audio levels dropped considerably.
We're also quite taken with Fugoo's accessories for the speakers, which show a little more imagination than is typical. For instance, there's a bike mount that allows the Sport and Tough shells to attach to your handlebars, and a dashingly clever strap mount that means you can tie a speaker to a tree trunk or anything else.
The smartest, however, is Fugoo's Wearable Bluetooth Smart Remote. It's waterproof, and offers simple control over volume as you might expect; it even has a bottle-opener on the back, useful for picnics. What makes it particularly special is how it can trigger either iOS' Siri or Android's Google Now by pressing the multifunction button, turning the Fugoo speaker into a hands-free terminal for the digital personal assistant services.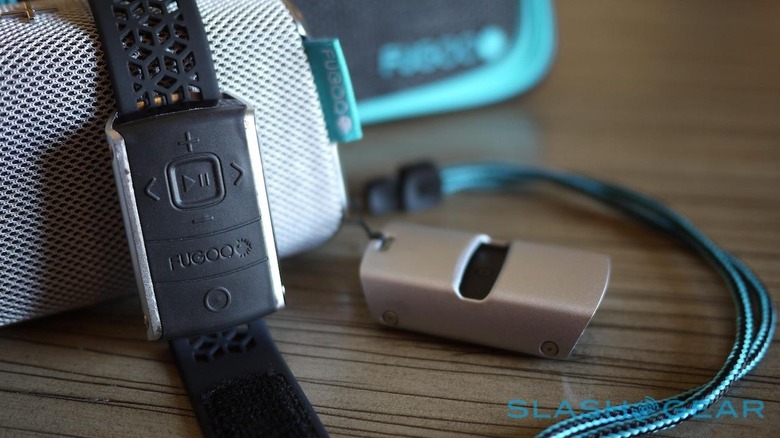 So, you can ask Siri for anything you might regularly demand from your iPhone – sports scores, or a weather forecast, or to dictate a text message – and do voice searches through your Android phone or tablet. It's a great addition, and while Fugoo bills it as a good way to settle arguments in the park about which actor starred in which movie, we can also see it making the Bluetooth speaker a constant companion on your desk.
It needn't stay there, though. The core is waterproof – good for dunks of up to 3ft – along with being resilient to snow, sand, and dust, and Fugoo designed it so that it could be rinsed off under the tap if it gets dirty. Slotted into a jacket, you get extra-reinforced corners in case they're dropped; total weight is 15.6 to 18.3 ounces depending on which jacket you select.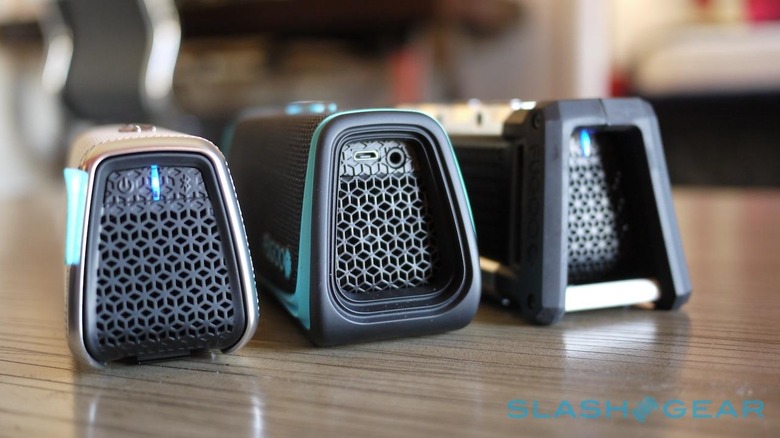 Of course, there's also Bluetooth speakerphone functionality, and a 3.5mm aux-in socket for devices without Bluetooth. Fugoo is quoting up to forty hours battery life, too, and a full recharge in around 3.5 hours; if that's true, it'll mean around double what most of the competition can do, if not more.
All in all, it's a promising entry to a crowded market, and we're eager to try Fugoo out for an extended period. The company says its speakers will go on sale this month, priced from $199.99 for the Style version.