Freescale Smartbook concepts: ARM-based ultraportables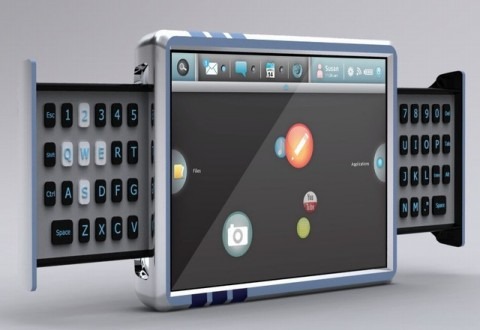 Nothing like a new niche to get the concept artists salivating, but this time it's Freescale Semiconductor who are working on possible Smartbook designs.  The company has commissioned six prototypes, ranging from the touchscreen-slate-with-QWERTY-ears you see here to a modular mini-notebook and a leather-clad clamshell.Five more Freescale Smartbook concepts after the cut
The concepts are the work of industrial design specialists SCAD, and don't appear to have reached hardware stage yet.  Instead, the renders suggest the different directions the Smartbook platform – which uses ARM-based processors and boast super-long battery life – might go in, to cater for different usage patterns.
In terms of working hardware, the prototypes are slightly less impressive.  Freescale have been demonstrating the Wistron N900z, a more traditional netbook-style design in which the most exciting aspect is perhaps its tipped sub-$200 price.
Press Release:
Freescale drives innovation around future netbook concepts and form factors

As the "smartbook" category takes shape, Freescale teams with prestigious industrial design program to demonstrate next-generation form factors

A smartbook prototype that unfolds to provide keyboard and mouse functionality
A sleek smartbook prototype featuring a touchscreen interface
A modular smartbook concept that enables customization
Smartbook prototype with sliding keypads
Smartbook prototype featuring vertical display
A smartbook prototype featuring leather-based casing

Smartbook devices based on ARM™ technology are rapidly emerging to fill the gap between smaller-screened smartphones and traditional, PC-like netbook or notebook products. To develop groundbreaking product concepts for this new device category, Freescale has teamed with a top North American industrial design program, resulting in an array of visionary smartbook prototypes on display this week at the Computex show in Taiwan.

Sporting larger screens than traditional smartphone devices, smartbooks are cloud-computing-centric and characterized by all-day battery life, instant-on functionality and persistent connectivity. They are commonly powered by processors based on ARM technology, such as Freescale's i.MX515 device.

To demonstrate compelling new concepts that leverage these advantages, Freescale engaged with the Savannah College of Art and Design (SCAD) for a program to explore requirements related to ergonomic issues, user interfaces, alternative form factors and even accessories for next-generation smartbook devices.

"As the smartbook market emerges, new form factors and product categories will evolve to support and better align with user needs, and our engagement with SCAD demonstrates Freescale's intention to lead this evolution," said Glen Burchers, Consumer Segment marketing director for Freescale. "This initiative has given Freescale valuable insight into how end-users prefer to interact with smartbooks, and this knowledge will be fed back into our chip design processes, ultimately resulting in future i.MX processors that enable compelling consumer experiences and entirely new classes of consumer devices."

Tasked with creating new models and paradigms that improve on the designs and user interfaces common to most first-generation netbook products, the participants developed a range of highly innovative, yet practical, designs optimal for leveraging the small, fanless dimensions and low-power operation of Freescale's i.MX515 processor. Students whose designs are selected as truly exceptional will travel to Computex in Taipei to showcase their prototypes with Freescale. They will also participate in a special panel presentation on June 4.

SCAD: The University for Creative Careers

SCAD is a private, nonprofit, accredited institution that offers more degree programs and specializations than any other art and design university in the United States. Last year, SCAD's industrial design program was ranked among the most prestigious in the nation by the Almanac of Architecture and Design. Industrial design students work with the form and function of everyday products – designing them to suit user needs while also considering the demands and limitations of production. Coursework is combined with professional practice involving actual clients on projects for industries including consumer electronics, communications, entertainment, housewares, interaction, marine, toys, lawn and garden, consumer products and transportation. www.scad.edu.

About Freescale Semiconductor

Freescale Semiconductor is a global leader in the design and manufacture of embedded semiconductors for the automotive, consumer, industrial and networking markets. The privately held company is based in Austin, Texas, and has design, research and development, manufacturing or sales operations around the world. www.freescale.com.