Foxconn seeks to move high-end device production from China to US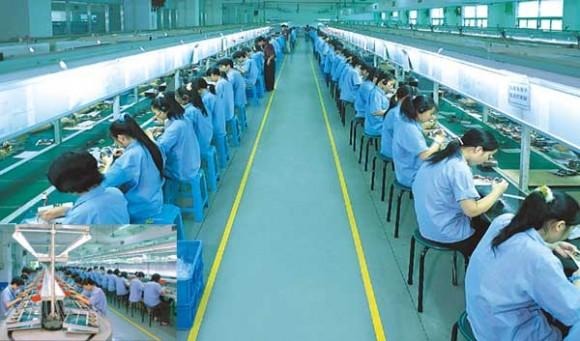 Foxconn — accused exploiter of student laborers, rumored catalyst for alleged PlayStation 4 sabotage, installer of suicide nets for bullied workers at its exploding plants, and outgoing manufacturer of iPhones and other electronics — wants to open a Foxconn-branded plant for high-end electronics like smartphones and tablets in Arizona, USA. Foxconn chairman and president Terry Gou recently met with Arizona governor Janice Brewer, Unwired View reports, to discuss setting up shop in her state. The news first appeared in the Chinese press. [UPDATE: The company is also investing in a Pennsylvania plant to the tune of $30 million.]
Details about the discussion — such as whether the AZ governor would help Foxconn get some sweet government grants, loans, contracts, or regulatory leniencies — are not available at the moment. In any case, the move would certainly benefit Foxconn (whose official name is Hon Hai Precision Industry) in three main ways. First, the company would ensure the plant uses as much automation as robotically possible. This would keep the company's labor costs down, compensating for moving to a country with higher pay scales. Chinese wages are on the rise, as is the Chinese yuan, factors that prompted Foxconn to seriously consider opening plants elsewhere in the first place.
Secondly, since Foxconn would sell many of its products within the United States, it would see much lower operating costs by avoiding import tariffs and shipping costs.
Lastly the move would help Foxconn repair its good name, which over the last few years the company has managed to completely obliterate in almost every way possible.
But the move would also benefit the United States, theoretically. There has long been a desire on the part of the Obama administration and the public at large to build more manufacturing facilities at home. This would return more jobs to American soil and bolster the pride of a nation that lately views itself as pencil pushers rather than as a people of industry.
For Gou's part, he pointed out that there are "too many software developers" and not enough hardware designers in the US as compared to other countries. He said his company's investments would help balance the discrepancy. He also expressed an opinion that "innovation is more likely to come from the United States than Taiwan," Unwired View reported.
This isn't the first time Foxconn has operated within the United States. The Chinese electronics manufacturer has worked with Apple in the California-based company's Texas plant for some time to build Macs. But if a deal goes through, this would be one of Foxconn's first attempts to set up shop on American soil for the purpose of manufacturing its own products, under its own supervision, without a third-party contract.
SOURCE: Unwired View