Foxconn freezes production after 2,000-strong brawl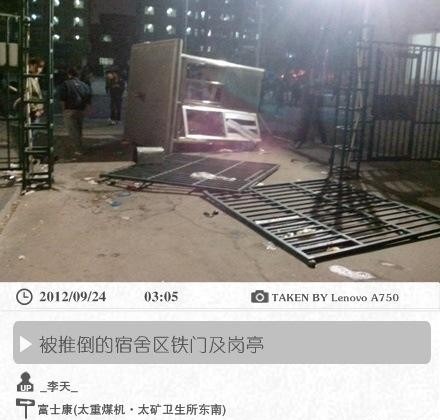 Foxconn has frozen production at a Chinese facility after violence broke out and eventually escalated to involve around 2,000 workers, requiring police intervention to settle the dispute. Approximately 40 people were injured after what Foxconn describes as a "personal dispute" snowballed at the Taiyuan plant, the BBC reports, with Chinese state media claiming it had been "triggered by a conflict" involving workers and a restaurant owner.
Foxconn is helping police with investigations to narrow down the exact cause of the aggression, spokesperson Louis Woo told Bloomberg. The downtime at the plant is described as an opportunity for tensions to ease before work resumes. "We want to give people time to cool down" Woo said, denying that it had been triggered by work-related complaints. Photos taken on-site apparently show damage to buildings and other facilities [image via Bill Bishop] though Foxconn has not details what repairs must be made.
Although Foxconn counts Apple among its customers, and is responsible for manufacturing the iPhone 5, the company would not confirm whether production of the new smartphone would be affected by the facility's closure. However, analysts have suggested that it is more likely to be a hub for producing Nintendo's Wii and other devices.
According to local reports, the fight between rival groups of workers began at 11pm on Sunday evening outside a company-run dormitory. Foxconn security and police became involved, and the violence was subdued by around 3am, Woo claimed, with several people arrested. 79,000 people are employed overall at the Taiyuan plant.
Foxconn has come under prolonged investigation over concerns regarding working conditions and employee rights in recent months. The company passed a Fair Labor Association assessment, but was later embarrassed by an insider-exposé when a Chinese journalist reported damningly from within one factory having secretly found work there.