Foursquare adds recommendations from Facebook friends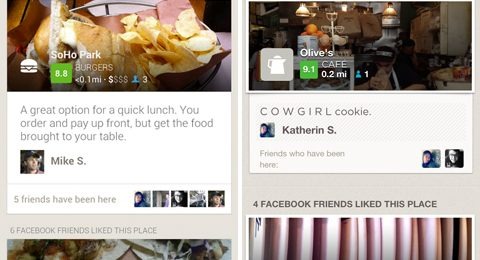 Foursquare has boosted Facebook integration in its mobile apps, adding friend recommendations to the Explore section so as to promote venues, locations, and other check-in possibilities based on individual feedback. The update pulls in more Facebook data when friends check-in through the Foursquare apps, including showing tips and public photos.
The new additions to the Foursquare UI show up as discrete "X Facebook friends liked this place" and "Your Facebook friend Z left a tip here" messages. There are also profile icons of those friends who have checked-in.
However, Foursquare is keen to point out that your own check-ins won't be publicized any more than they are already; Facebook friends will only see your updates from Foursquare if they're friends in both services. In addition to showing up in the Foursquare apps for iPhone and Android, the new Facebook integration has also been baked into Foursquare on the web.
Foursquare added the "Explore" tab to its apps earlier this year, expanding what had until then been a predominantly location-reporting service into something which could recommend new places to visit. That extra data could well be the cause of interest from Apple; the Cupertino giant is rumored to be weighing a deal that would see Foursquare information baked into Apple Maps so as to make it more competitive with Google Maps.