Fossil Meta Watch: Phone updates on your wrist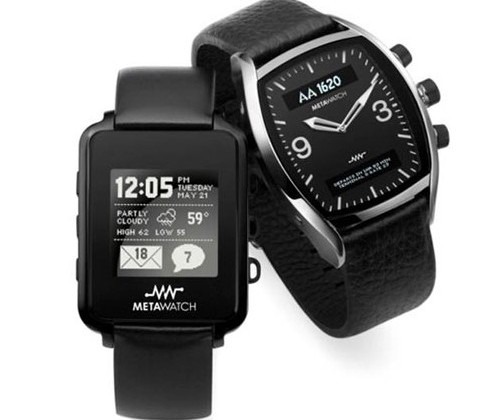 The Fossil Meta Watch – first shown off by HP back in March – has got itself a release date and price, with the hack-friendly "wrist computer" set to go up for pre-order from May 9 and begin shipping in July. The $200 timepiece is available in digital or analog versions and is based on the TI MSP430 microcontroller paired with Bluetooth connectivity for hooking up to your phone, tablet or other device, while the open source Meta Watch SDK/API allows developers to push whatever information they want to the tiny display.
Inside the 3 ATM water resistant stainless steel case (which has a leather strap and mineral glass crystal fascia) there's a 3-axis accelerometer, vibration motor and ambient light sensor. We're not sure if that means the pressure sensor, temperature sensor and RF wireless originally seen in the MSP430 hack-watch are now gone.
The analog version has two 16 x 80 white OLED displays, while the digital version has a 96 x 96 reflective display. Fossil – of whom the new Meta Watch company is a division – will be showing off the timepiece at Google IO next week.
[Thanks to everybody who sent this in!]
Press Release:
Meta WatchTM offers developers freedom to start their own wrist revolution

Richardson, TX, May 3, 2011 – Meta WatchTM is proud to announce a wearable development system that enables rapid development of 'connected-watch' applications. With Meta Watch, developers can quickly and easily extend the interfaces of devices and applications to the wrist. The Meta Watch platforms utilize embedded Bluetooth® technology to connect to smartphones, tablets and other electronics devices. The Meta Watch SDK/API makes it easy for the watch to display information from mobile applications or Internet services. For complete information, visit www.metawatch.org.

Meta Watch platforms are available in analog digital or digital versions, and include: a 3 ATM water resistant stainless steel case; leather strap; mineral glass crystal; vibrating motor; three-axis accelerometer, and ambient light sensor. Optimized for low-power operation, both watch platforms are based on the MSP430TM ultra-low-power microcontroller and CC2560 Bluetooth host controller interface solution from Texas Instruments Incorporated (TI).

"Meta Watch makes our everyday mobile experience much better by enabling us to view important mobile notifications at the right time with virtually no effort", said Bill Geiser, Vice President Watch Technology, Fossil. "Of course, you can get this information today, but it requires many different steps. Meta Watch simply makes it more convenient and, in the process, it opens the door to new partnerships like we have with TI and a growing network of development partners."

"TI welcomes the opportunity to work with the Meta Watch team on creating a new channel for the community, and to helping developers push the watch's capabilities to the next level," said Eran Sandhaus, Director of marketing, wireless connectivity solutions, TI. "TI's MSP430 ultra-low-power microcontroller and CC2560 Bluetooth host controller interface provide a solid foundation for the next- generation, connected devices based on the Meta Watch's sleek form factor. We look forward to seeing the Meta Watch community flourish with ideas for wearable technology that will spark new consumer experiences for years to come."

See Meta Watch in action The Meta Watch platform will be showcased May 3 – 5 at TI's booth, #1530, during the Embedded Systems Conference Silicon Valley in San Jose, CA. On May 10 and 11, Meta Watch will also be part of the Developer Sandbox at Google I/O in Mountain View, CA.

Pricing, availability, and more

• Availability date: July 2011

• Where to buy: Pre-orders starting Monday, May 9, at https://estore.ti.com/

• Cost: USD $200

• Regions shipped to: U.S. and Europe

• Latest information: www.metawatch.org

About Meta Watch

Meta Watch is an advanced development group exploring technology-based opportunities for watches. It is a division of Fossil.