If Fortnite Monopoly wasn't enough proof that Fortnite has taken over the world, perhaps this new NERF blaster will be. Hasbro has unveiled the first blaster it's crafting with Fortnite as the inspiration after announcing this partnership earlier in the year. The first blaster will be one of Fortnite's assault rifles, and it'll be here next year.
Dubbed the Fortnite AR-L Blaster, anyone who has played the game will see that this NERF gun has a familiar aesthetic. The AR-L will offer motorized firing and use a magazine that can hold 10 Elite darts. The blaster itself comes packed with 20 darts and requires four AA batteries to use.
As reported by IGN, the AR-L will also feature flip-up sights, so if NERF wars are common in your house, this might be a good blaster to have by your side. It certainly looks like one of NERF's more serious blasters, but it has a price tag to match, as it's priced at $49.99. Unfortunately, it's still a ways off, as it won't hit shelves until June 1, 2019 – just in time for summer.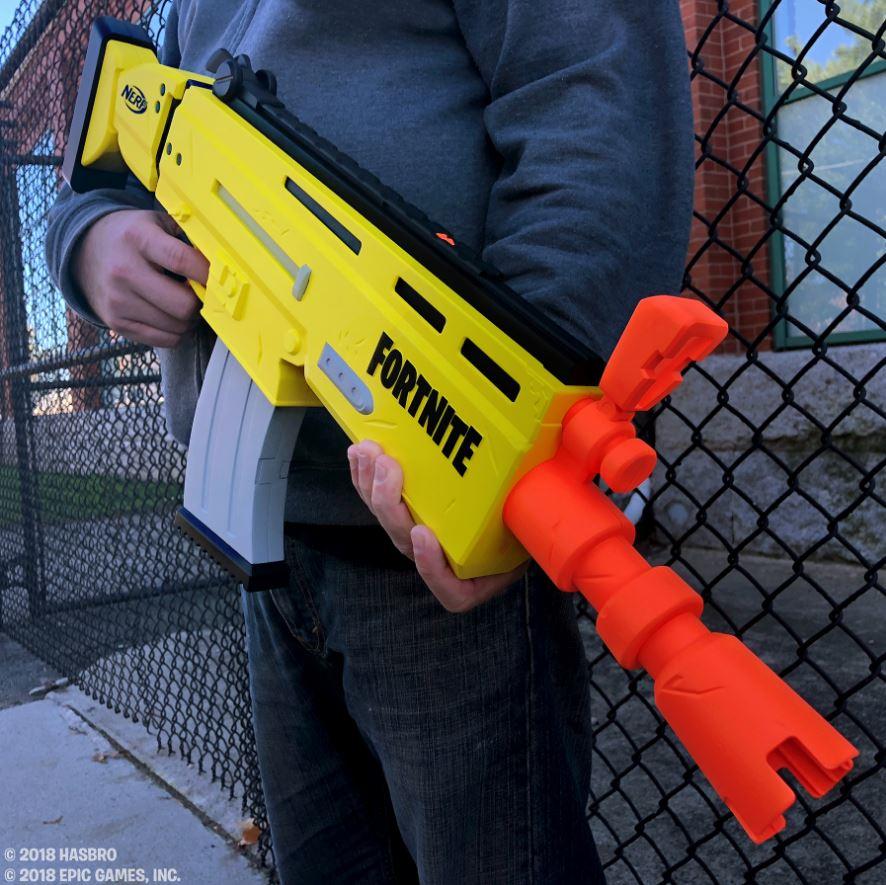 This isn't the first time we've seen NERF turn to video games for blaster inspiration. Hasbro also recently announced a collection of Overwatch blasters, but while Overwatch is a hugely popular title in its own right, Fortnite is definitely the game franchise to partner with at the moment. That's why Habsro's partnership with Epic extends beyond NERF blasters and includes a Fortnite Monopoly set as well.
In any case, the AR-L is likely just the first in a line of Fortnite blasters Hasbro plans to produce, so hopefully we'll soon see what's next for this partnership. If you're shipping out to TwitchCon this weekend, Hasbro and Epic will have the AR-L on hand, so be sure to stop by and check it out.