Fortnite for Switch outed again, this time by the eShop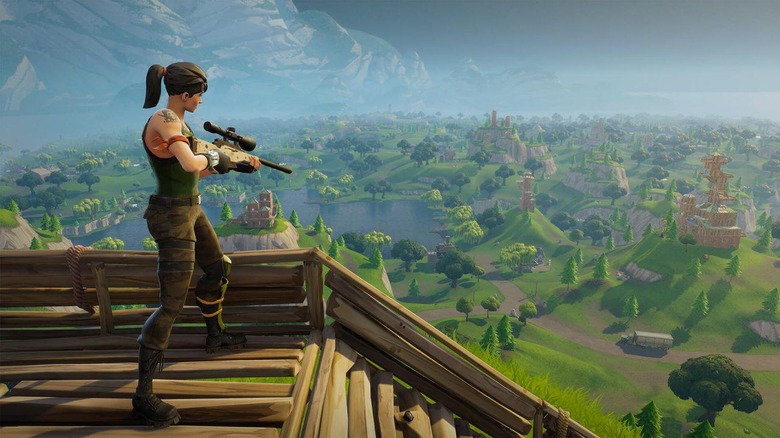 Fortnite on Nintendo Switch is quite possibly the gaming world's worst-kept secret at the moment. Even aside from the fact that porting Fortnite over to the Switch would be a no-brainer for Epic, there have been a handful of leaks that point to an incoming reveal. The latest leak landed today, and this time, Nintendo is actually the one responsible for it.
References to Fortnite have been spotted in a recent eShop update. Hacker SciresM brought these references to light on Twitter earlier today, also discovering a Fortnite icon that looks like the one Epic would use for the Nintendo Switch homescreen. If the other leaks didn't have you convinced, then perhaps these will.
Of course, the other leaks have been fairly convincing as well. Rumors of Fortnite on Switch have been making the rounds for several weeks now, but a recently-leaked document that supposedly details Nintendo's E3 lineup really set them into overdrive. Shortly after that document leaked out, Fortnite for Switch made a stop at the Korean ratings board, further adding fuel to the fire.
At this point, it's probably safe to assume that Fortnite is indeed coming to the Switch. Nintendo and Epic certainly seem to be winding up for an E3 2018 reveal, and if that's the case, we have less than a week to wait before it's official. Nintendo's E3 Direct broadcast will be happening next Tuesday, June 12, at 12 PM Eastern.
It isn't likely we'll see Fortnite revealed before then, so we'll just have to sit back and wait on Nintendo's E3 presentation. We'll be covering the Direct as it happens here at SlashGear, so be sure to check back here for more.