Ford's SYNC 3 can now pay for your gas, no buttons needed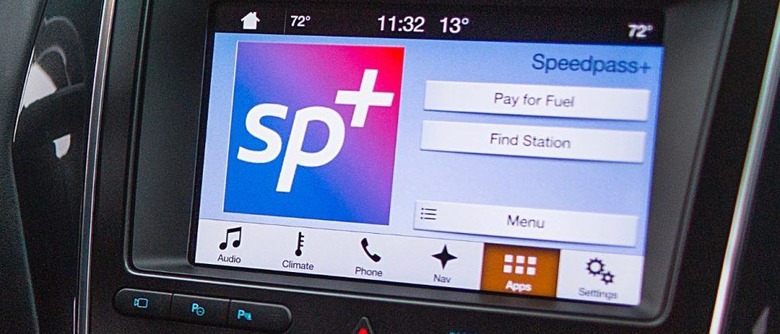 Ford is adding gas-paying abilities to its SYNC 3 infotainment system, allowing drivers to pay at the pump without going anywhere near its grubby keys. The technology sees Ford integrate ExxonMobil's Speedpass+ technology in a new SYNC 3 app. It'll be supported at around 9,400 gas stations across the US.
Until now, Speedpass+ has allowed you to bypass the on-pump controls and instead pay using ExxonMobil's contactless dongle. That's a keychain-sized tag, onto which the gas company loads your account details. It works at participating Exxon and Mobil gas stations.
The SYNC 3 integration, however, is the first time Speedpass+ has been baked into a car dashboard. It makes plenty of sense, however: there's integration with the navigation system, allowing drivers to find the nearest gas station which supports the technology. When they're there, either buttons on the touchscreen can be used to authorize the fuel payment, or you can even use your voice to do so.
As with the existing key-tag, there's support for ExxonMobil's "Plenti" points scheme too. Using GPS, the system spots which gas station the car is at. That's displayed on the dashboard; the driver only has to enter the pump number, either by tapping it in, or by saying the number out loud.
Since SYNC 3 also has underlying integration with the car's own systems, it's allowed the gas company to add in predictive navigation too. The infotainment system will automatically flag up a nearby, Speedpass+ compatible location before the car runs low on fuel. and offer directions to get there.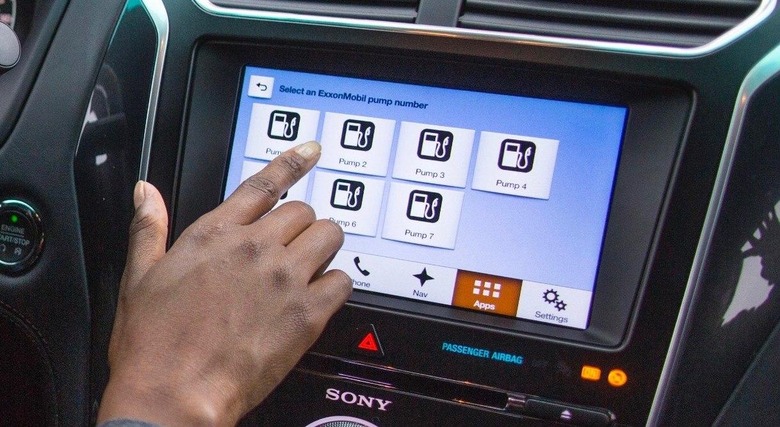 Launched back in mid-2015, SYNC 3 saw Ford ditch the Microsoft-powered infotainment it had been relying upon, and switching instead to QNX. It splits the touchscreen into three segments, focusing on navigation, entertainment, and a wired or wirelessly connected smartphone. In addition to speech commands for Speedpass+, and for the usual contact dialing and location search, you can request a certain HVAC temperature and other more advanced instructions.
The infotainment wars have been heating up in recent months, as Apple and Google both attempt to make inroads into an increasing number of dashboards. Most recently, for instance, Fiat Chrysler announced it would work with Google to build a new version of its Uconnect infotainment system based on Android Nougat.