Ford's Mustang-inspired performance electric SUV aims for 300 miles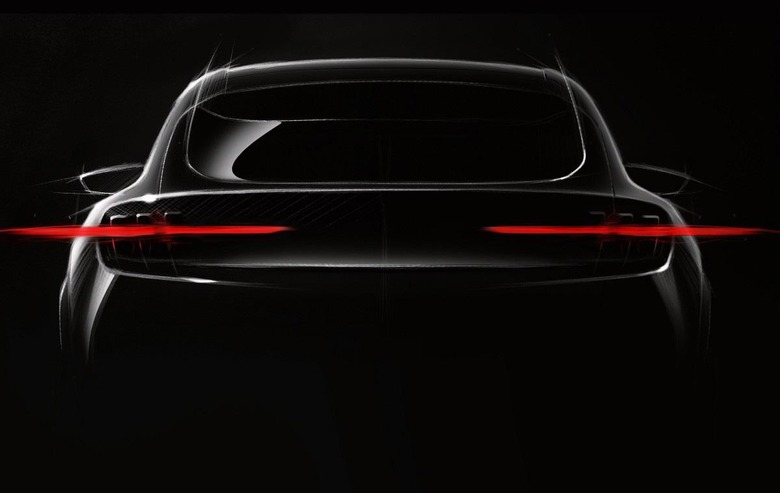 Ford has begun teasing what could arguably be the most important – and divisive – vehicle in its upcoming range: the all-new electric performance SUV, with its Mustang inspiration. The group responsible, known internally as Ford Team Edison, has pulled back the curtain just a little on the utility, which it once called the Mach 1.
That name was announced back in January 2018 at the Detroit Auto Show, though since then Ford has backtracked on the branding. Mustang fans, it's said, weren't too keen on an electric SUV borrowing the name from a performance version of the classic sports car. However, Ford's underlying intention with the vehicle hasn't changed.
Expected to launch as a 2020 model, the new electric Ford will still borrow liberally from the Mustang's design language. The rear sketch the automaker has released today, fo instance, shows Mustang-esque three segment rear lamps and a steep rear hatch. Certainly it's going to be more upright and chunkier than a Mustang would be, but that's par for the course when you're making a family car.
Indeed, according to Darren Palmer, Ford Team Edison Global Product Development Director, that family inspiration is core to making the new EV work. Palmer is no stranger to the Mustang aesthetic. Before taking on his current role, in fact, he was responsible for leading the next-generation Mustang project.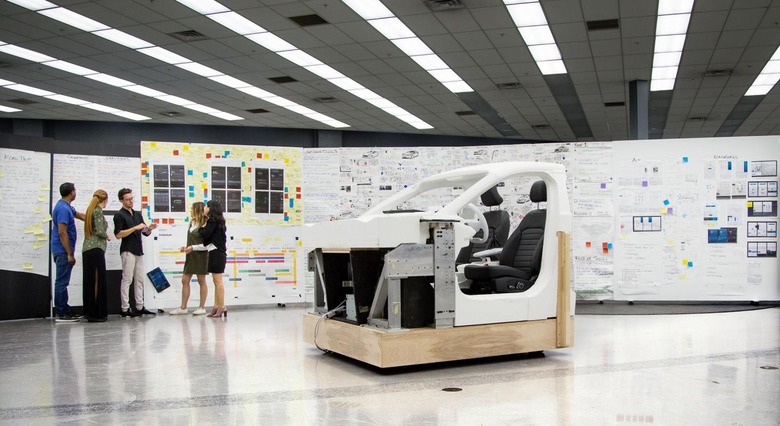 "Having just taken delivery of a Shelby GT350R, those in the dark about electric vehicles might think that they chose the wrong guy in that I'm a Mustang enthusiast," Palmer says. "But as my team and I have quickly found out, the new generation of electric vehicles is just as exciting — only different. Different can be good. Very good."
The architecture will be brand-new, part of Ford's $11bn electric investment. That will see 16 fully-electric vehicles launched, within a total of 40 electrified vehicles in Ford's overall portfolio, through 2022. It'll mean new infotainment systems and cabin experiences, Palmer teases, with the group going back to the drawing board on everything from how you interact with the dashboard, to how the three rows of an SUV or minivan are utilized.
"Gone are the days of shiny, expensive prototypes. Customers don't care about that — a low-fidelity cardboard prototype is enough to get feedback," Palmer explains. "This way of thinking is all part of our new, fast-moving team mantra. In fact, as a reminder of this, I've kept one of our first prototypes of the infotainment system for one of our new electric vehicles. It's literally cardboard, with a piece of a plastic cup stuck to it with tape."
Rapid-fire prototypes are well and good, but Ford's EV team still has its work cut out. The automaker says it wants the vehicle to achieve 300 miles of range, a figure that would put it at the top end of the segment. To do that, it'll need efficient motors but, more importantly, plenty of batteries. The weight involved in that will make it all the harder to deliver the sort of performance Mustang enthusiasts might be led to expect from the exterior.
The proof of it all, of course, will boil down to a few core metrics. What does the as-yet-unnamed electric utility vehicle cost, how far does it go on a full charge, and how easily will it be recharged after that? Ford still has those questions to answer, and its deadline for revealing the new electric performance SUV is fast approaching.