Ford Ranger Raptor: 5 things to know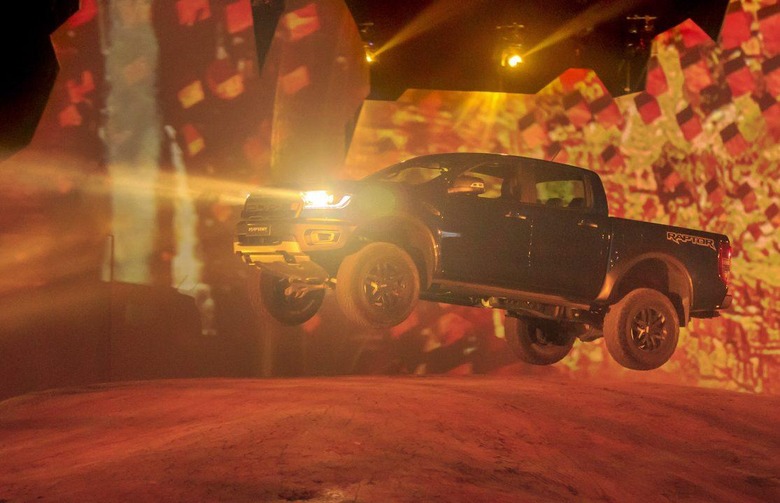 Rarely have we been as envious of the Australians as discovering they're getting the new Ford Ranger Raptor while the US is not. Announced today, the performance pickup borrows its bigger brother's style and off-road ambition, but with a midsize footprint. Ford has made a few unusual decisions along the way with the Ranger Raptor, however: here are five facts you need to know.
1. There's no huge gas engine under the hood
For a sports truck, the Ranger Raptor sure does have a small engine. Ford has eschewed V6 or V8s, and the lure of gasoline, and opted instead for a mere 2.0-liter diesel engine. Still, as you might have predicted, this is no ordinary diesel.
It's a bi-turbo, good for 210 horsepower and 369 lb-ft. of torque. Ford has paired it with the same, 10-speed automatic transmission as in the F-150 Raptor, with paddle-shifters and a manual override mode. No word on economy, which seems like it might be a dirty word among performance pickup buyers even.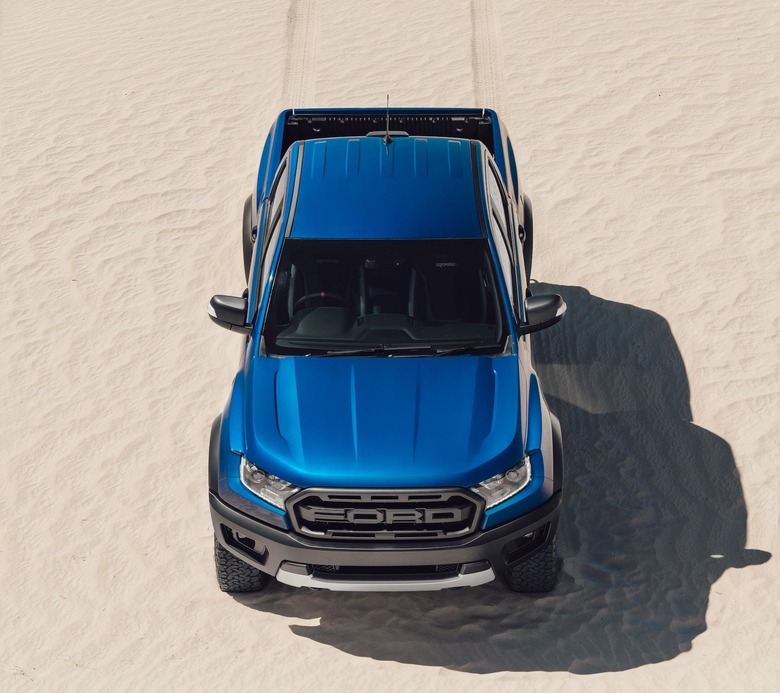 Still, the diesel decision makes a lot of sense when you consider the target audience. Fuel prices and taxes on big engines are vast in Australia, and so making the Ranger Raptor punch above its weight with as small a powertrain as possible opens the door to a lot more buyers. Should it make it to the US, where the base Ranger has a 2.3-liter EcoBoost, we'd expect to see something a little more beastly in the engine bay.
2. Those twin-turbos are mighty interesting
The usual formula with turbocharging is pretty straightforward: pump more air into the engine using a compressor, and increase efficiency and power output along the way. What Ford is doing in the Ranger Raptor, though, deserves some extra attention. It could well have some interesting implications for future EcoBoost models, after all.
Ford fits not one, but two to its 2.0-liter diesel. The first is a smaller, high-pressure unit; it's connected in sequence to a larger, low-pressure version. In-between there are bypass valves, and by opening and closing those, Ford can control which turbo is active at any point.
When the engine speed is low, both turbochargers can be active to boost torque and help avoid turbo-lag. It should make the Ranger Raptor more responsive, Ford says. When engine speeds are higher, however, the truck can bypass the smaller turbo, getting more power as a result.
3. It's not much smaller than the F-150 Raptor
Midsize trucks have been getting bigger, but then again full-size trucks aren't exactly shrinking. Still, the size difference between the Ranger Raptor and the F-150 Raptor is oddly small.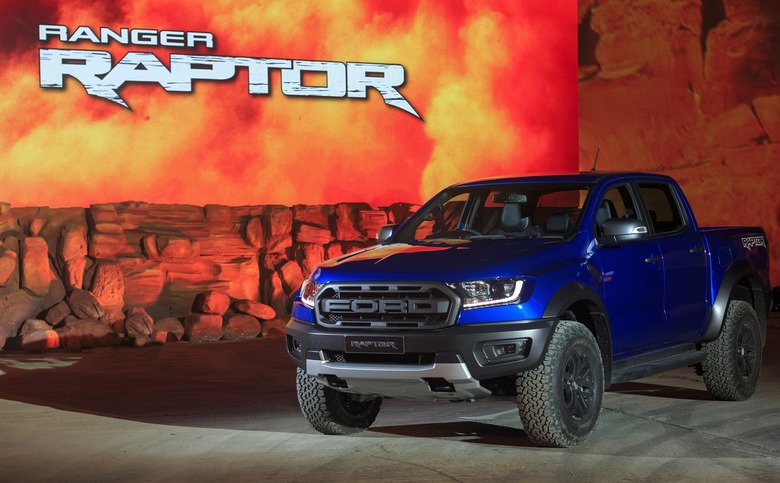 Comparing the full-cab versions – the only Ranger Raptor available, and by far the most commonly bought F-150 Raptor configuration – it comes as no surprise that, at almost 232 inches, the F-150 based Raptor is longer than the 213 inch Ranger version. Still, there's less than a foot in it. At 85.6-inches, the Ranger Raptor is less than an inch narrower than the F-150 Raptor, too.
The F-150 Raptor certainly isn't a joy to park in SuperCrew form, though the shorter Ranger Raptor should be mildly easier on that front. Still, the beefy girth on both trucks means they're lane-fillers.
4. The 2019 Ranger FX4 is its closest cousin
Ford may not have announced a Ranger Raptor for the US, but it has promised the next best thing. The 2019 Ranger FX4 is one of several trims that the American pickup will be offered in, and it comes close to the Ranger Raptor in a number of ways.
You miss out on the Raptor-style body kit, but the FX4 does hold up in other ways. The shocks are off-road tuned and there's an electronic locking DANA rear differential. Ford upgrades the tires, too, and gives the Ranger FX4 a steel front bash plate and reinforced skid plates. Just as on the Ranger Raptor, the F-150 Raptor's Terrain Management system makes an appearance on the FX4, too.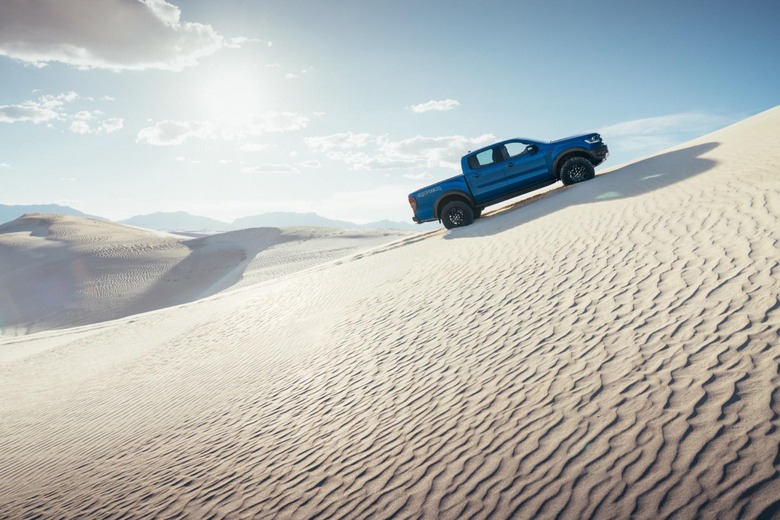 Which will hold up better in the dunes? The Ranger Raptor gets Baja mode, but the Ranger FX4 could still best it on power: Ford hasn't announced numbers for the 2.3-liter EcoBoost under its US truck's hood, but it's worth noting that the same engine is good for 350 HP in the Focus RS. Even in lesser-tuned Explorer form, you're looking at 280 HP and 310 lb-ft. of torque.
Where the Ranger Raptor does get ahead is in ground clearance. Ford hasn't announced specifics for the Ranger FX4, but with about 9-inches expected it should fall short of the Ranger Raptor's 11.1-inches on its huge tires and extended shocks.
5. It's going to have some strong competition
If there's one thing America knows, its how to make an alluring truck. Pickups are big business, and performance pickups make for a lucrative segment. So, the Ranger Raptor has some natural competition.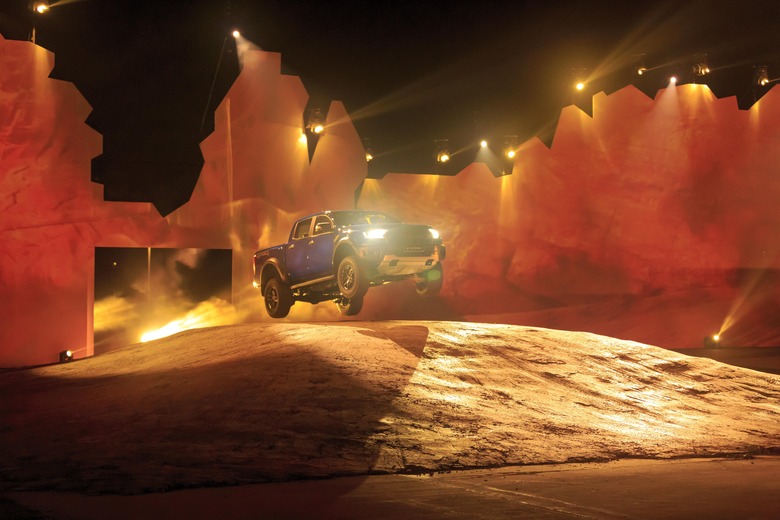 Probably the most obvious foe is the Chevrolet Colorado ZR2. In diesel form it has a bigger engine, at 2.8-liters, than the Ranger Raptor, but only puts out 181 HP despite matching the Ford on torque. Chevy has a 3.6-liter V6 Colorado ZR2, too, which nudges ahead in horsepower with 308 HP, but can't match the diesels' torque, at 275 lb-ft.
The ZR2's 8.9-inch ground clearance isn't going to give the Ranger Raptor any sleepless nights, either, even if Chevrolet is particularly proud of its clever Spool Valve suspension damping system.
Wrap-up
The big question we have about the Ranger Raptor we have here in the US is easy: "when can we buy one?" Ford, though, is playing such details close to its chest. Sales of the regular 2019 Ranger won't kick off until early next year on American soil, and it's likely that the FX4 AWD configuration of that truck will be the performance model for some time at least. All the same, it's hard to imagine Ford leaving a willing audience with open wallets waiting.