Ford patents self-driving "lounge" car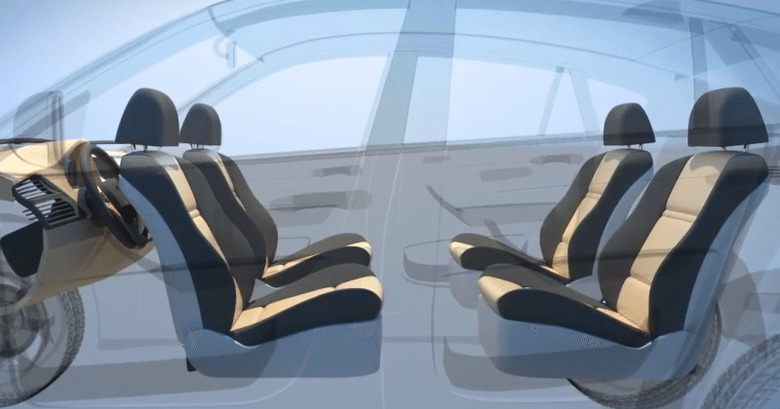 The primary motivation for self-driving cars has mostly been for safety, taking stressful manual processes out of the equation and keeping error-prone humans away from the wheel. But if humans won't be driving anymore, there won't be much left for them to do right? Well, why not take advantage of the situation to do a bit of socialization? In a patent for an "Autonomous Vehicle with Reconfigurable Seats", Ford is suggesting exactly that, with front seats that can be moved to transform the cabin into a more comfortable lounge.
The idea sounds simple yet enticing. Larger vehicles, particularly vans and SUVs, already have seats that fold to create an area where passengers can face each other. In all of these, however, the driver and the front passenger are always left out. Naturally, because the driver can't really afford to, but with the advent of autonomous cars, they too can join in on the conversation.
The applications for such a setup is more than just a frivolous party on the road (and the jury is still out on whether the person sitting on the driver's seat of a self-driving car still can't drink). The patent would allow parents to remain focused and attentive to their children. The setup could also be used for conducting business.
All of these, however, ultimately depend on the actual self-driving capabilities of the car and whether drivers will be able to confidently turn their backs on the road. Ford, however, isn't exactly yet in that position to inspire confidence in autonomous vehicles. The car maker is commonly perceived to be lagging behind its competitors in that area. It's not in a hurry though, as this was noted by a company representative as merely a patent that may or may not even take real form.
In this case, it might not, or at least it might be legally problematic for Ford. The car maker applied for the patent in May and was granted only this month. However, as early as January this year, Mercedes-Benz already had a working futuristic car that did all of the above. We even took a ride in it last March! This could very well be used as evidence of prior art that could invalidate Ford's patent eventually.
VIA: Business Insider