Ford Focus Active US release axed over Trump's China trade war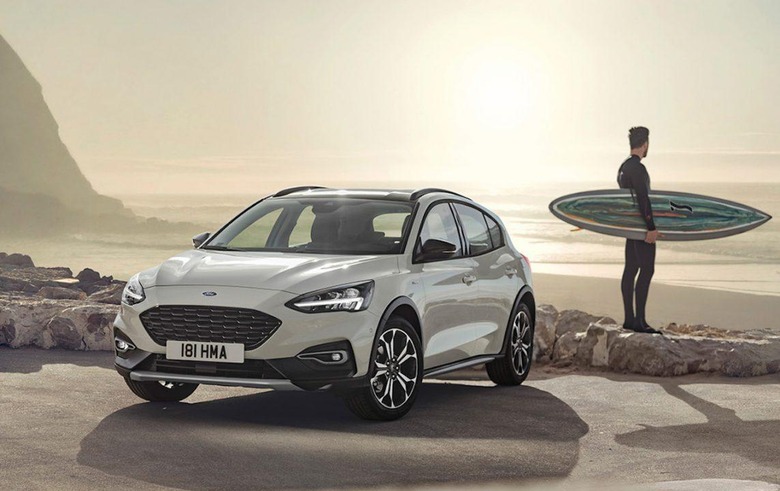 Ford has axed plans to bring the new Focus Active to the US, blaming President Trump's China tariffs for the unexpected decision. The vehicle, a wagon version of the Focus, was to be one of just two cars that would survive Ford's huge range cull in North America.
That plan, announced in April, surprised investors and Ford fans alike with the automaker's dramatic changes. Gone would be most of the car range, with models like the Fusion, C-Max, and Taurus all retired. In their stead, Ford said, it would invest heavily into new SUVs, crossovers, and trucks.
The decision would have left just two Ford car portfolio models available: the Mustang and the Focus Active. Now, Automotive News reports, that's down to just one. The problem the automaker faces is that the car is manufactured in China.
That puts it right in the middle of the escalating trade war begun by the Trump administration, which has seen increasing tariffs threatened and implemented by both the US and China. Currently, there are 25-percent tariffs being applied on Chinese goods worth around $50 billion. However, even further tariffs are said to be in the pipeline, potentially increasing that four-fold.
Cars produced in China and then imported into the US fall victim of those tariffs, and Ford decided that the costs involved made the Focus Active financially unfeasible. The wagon, which has a crossover-esque raised driving position and was to be targeted at younger drivers looking for something catering for outdoor lifestyles, had been expected to launch in 2019. Ford pegged sales at under 50,000 cars per year.
Instead it will drop the plan altogether. "The impact to our future sales is expected to be marginal," Kumar Galhotra, Ford's North America president, said. "Our viewpoint is that, given the tariffs, our costs would be substantially higher. Our resources could be better deployed at this stage."
Even if the tariffs are dropped, it's still bad news for the Focus Active. A Ford spokesperson said that it has no plans to reconsider the decision.
Ford isn't the only automaker to be potentially affected by the trade war. GM's Buick has seen huge success in China in recent years, with models like the Envision compact luxury SUV produced there and imported into the US. The company has requested an exception from the tariffs for the car, warning that, without it, Buick may be forced to drop the model in the US altogether.