Today the 2015 Mustang was revealed in full by Ford after becoming official for the first time late last night. This vehicle is the first Mustang to be sold in Europe and Asia, having seen many years of exports from the USA and a big call from international buyers to bring the vehicle to their home countries. The car is currently on a tour that begins in Dearborn, Michigan and Shanghai and continues on to Sydney, Barcelona, New York, and Los Angeles.
Joe Hinrichs, Ford's head of North and South America, chatted with Reuters recently of this release. He spoke up on how the call for more international sales is being heard loud and clear, and that they plan on bringing this Mustang places previous models have never been – not directly, anyway.
"We kept seeing them show up even though we don't sell them in China, Australia and other places. People (are) figuring out a way to get it into the country, even though it's not sold there, which tells you something." – Joe Hinrichs for Ford
This is also the 50th anniversary of the Ford Mustang, bringing some celebration to the release in addition to the normal excitement of its reveal. According to Tim Stevens at CNET, Ford's marketing manager Jacques Brent calls this vehicle's design "evolution, not revolution."
[aquote]Evolution, not revolution.[/aquote]
Here you'll find the addition of independent rear suspension, adaptive cruise control, and keyless ignition. The look of the vehicle is one of the Mustang family – fitting squarely inside the lineup as looking new whilst feeling classic.
The 2015 Ford Mustang works with an upgraded 5.0-liter V8 engine aside V6 and 2.3 liter EcoBoost four-cylinder (I4) options. This model's roofline is 32mm lower than last year's model while the front track is a full 15mm out further and the rear is out 70mm. Not things the everyday average consumer would notice, but certainly something a hardcore Mustang lover will devour.
Inside is a simple touch LCD utilizing the newest in new MyFord Touch technology. This LCD is joined by another smaller LCD panel right up front and center of the driver's side console, right between traditional tach and speed gauges.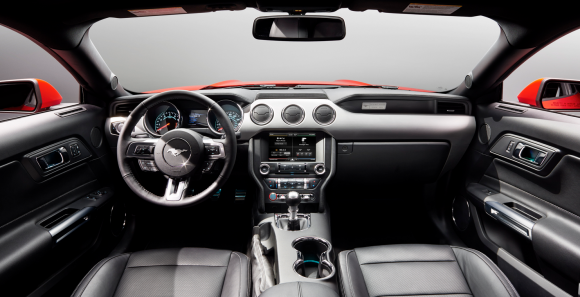 You'll find chrome, aluminum, and a collection of interior materials that make this vehicle the finest Mustang to be released by Ford in many moons. We'll be getting up close and personal with this vehicle soon enough – stay tuned to SlashGear's cars portal for more!
Shanghai Photo: Aly Song for Reuters, Dearborn Photo: Rebecca Cook for Reuters