FlipStart abandon UMPCs, regroup for MID & Smartphone assault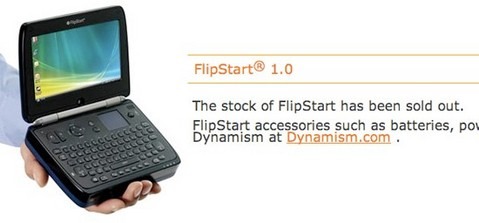 After Vulcan's FlipStart UMPC saw a huge price-cut back in January, sales of the diminutive clamshell obviously picked up.  The online store is now sold out, and directs people to import specialists Dynamism, which was enough to tip Engadget into suggesting the whole FlipStart project was closing down.  Now Steve from the UMPC Portal has stepped in to (partly) clarify the situation.
According to Steve, it's true that the company have decided to retreat from the UMPC market.  However, unlike the soothsayers might have suggested, it's a repositioning rather than a complete exit.  Upcoming FlipStart products will fall into the MID and smartphone niches, after a definite decision by the company back in January to wind down production and hand over sales and support to Dynamism.
While it did alright in early reviews, the layout of the FlipStart 1.0 just didn't seem right to me.  Considering budget users now have plenty of choice – from the Eee and the masses of low-cost ultraportables it has spawned – all usually with the standard notebook layout, the FlipStart (which may have been a UMPC but, at the end of the day, looked more like a mini-notebook than the slate-tablet associated with UMPCs) would have found it increasingly hard to compete.