It's time for the news-reading app Flipboard to hit the big time on full-sized Android tablets across the board, the company announcing that they've worked with Samsung specifically to handle high-resolution displays galore. This update largely takes on the form of the iPad-optimized user interface, no longer requiring users to side-load the smartphone-sized app to their beastly high-resolution tablets like the Google Nexus 10. This update to the app continues the development team behind Flipboard's collaborative efforts with Samsung, they having released the original Android version exclusively to the Samsung Galaxy S III earlier this year at launch.
Now that the smartphone version is well established in the Android handset environment, the development team behind Flipboard is ready and willing to push forward to the full-sized tablet universe. This version supports both portrait and landscape modes, and is able to flip back and forth between tablet and smartphone modes for those of you with mid-size tablets like the Nook or the Amazon Kindle Fire. The Google Nexus 7 has been one of these in-between choices for Flipboard for some time now as well – now you've got two choices instead of one!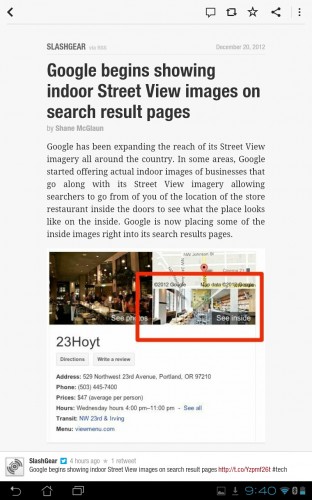 Flipboard is an app, for those of you that've never utilized it, that takes on the news you read every day – SlashGear, for example – and makes it into a fabulously easy to read and take-in experience that's also rather simple to interact with. This is not your standard RSS feed reader – though it does interact with feeds if you want – it's made to be a source for discovering new news sources as well. This optimization for tablets with Samsung goes something like this, per Flipboard's press release: "And having worked with Samsung over the last year, Flipboard is optimized for Samsung's tablet devices."
This update is available on the Google Play app store right this minute for free – absolutely for free, imagine that! You can log in and look up SlashGear and Android Community right out of the gate and get your daily technology news in a whole new modern-cut styling everyone will love!