Flipboard For Android Is A Galaxy S III Exclusive
Samsung has fully unveiled the Galaxy S III here at the London event today, and one of the inclusions to its modified version of Ice Cream Sandwich is an exclusive version of Flipboard. It marks the first time that Flipboard will be making the jump to Android, previously having seen a home on iOS. Samsung say that they have an exclusive window on the app, so it won't be hitting the Play Store or other handsets until a later date.
As for the app itself, it's very similar to what you've already seen on iOS, making full use of the Super AMOLED HD 720p display, and with a gesture based interface. Just like the iOS version, you can login to your social networks and have links aggregated straight to the app. You can also add different news feeds to the app and then flick and down through stories to view them. Cover Stories is front and center too, tailoring specific stories based on your reading habits.
[vms 81549a9d1d241981cec3]
In true Android fashion, there's also a widget available that you can stick to any of your homescreens, allowing you to flick through news in a speedy fashion just as you would with the Gmail or Google News widget. From our brief usage with the app, we'd say it's just as smooth as the iOS version, with no stutter or slowdown whatsoever. Text and images also looked extremely crisp on the display, and while it may still be a PenTile screen, at this resolution and size it's really not an issue.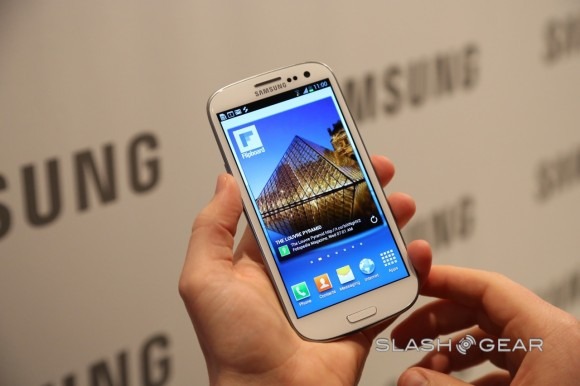 Samsung didn't give up exactly how long the app would remain a Galaxy S III exclusive for, although we imagine it won't be too long before an enterprising hacker rips the APK from the phone and shares it with the rest of the world. Until then, you'll have to hold tight.